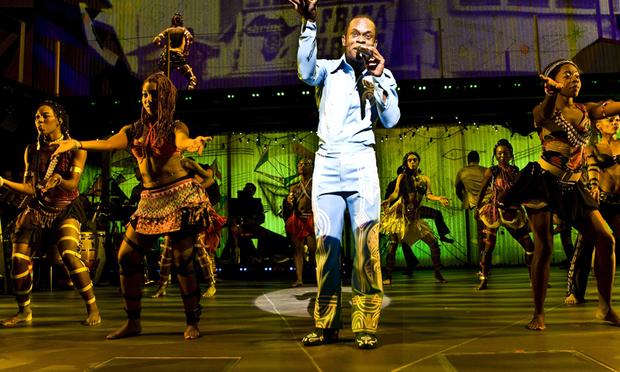 The event is sold out, but you can still tune in to the live video webcast at thegreenespace.org.
The Tony winning musical Fela! brings the life of Nigerian composer, musician and activist Fela Anikulapo Kuti to the Broadway stage – and now to WNYC's Greene Space. Directed and choreographed by Bill T. Jones, the production is backed by members of the Brooklyn-based Afrobeat musicians Antibalas. Led by Sahr Ngaujah, one of two actors who play Kuti, Fela's cast and band join us to perform for Soundcheck's live audience.
In the mid-60s, Andy Warhol made nearly 500 short films of people who frequented his Factory studio in New York, including Lou Reed, Dennis Hopper and Salvador Dali. More than 40 years later, the husband-and-wife duo Dean & Britta was commissioned to create music to accompany these "Screen Tests." Dean Wareham and Britta Phillips join us for a live performance (and a screening of some of the films) in WNYC's Greene Space.