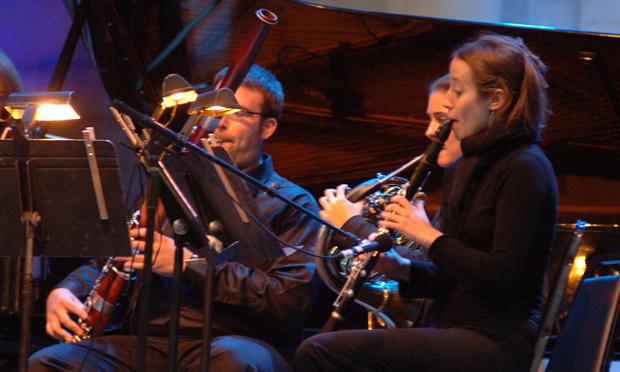 Trout Week: A WQXR Chamber Music Festival
Save 40% on tickets and see all 5 Trout Week evening concerts! CLICK HERE to order a Trout Week Pass. 
Musicians from New York's Ensemble ACJW perform Ravel's Sonata for Violin and Cello, as well as David Bruce's octet Steampunk, written especially for the group.
Live performance in The Greene Space, live broadcast on 105.9 FM WQXR, and live video Webcast at WQXR.org.
Maurice Ravel – Sonata for Violin and Cello
Joanna Marie Frankel, violin (Alum)
Nicholas Canellakis, cello (Alum)
David Bruce – Steampunk
Carl Oswald, oboe
Alexey Gorokholinsky, clarinet
Shelley Monroe Huang, bassoon
Leelanee Sterrett, French horn
Emily Popham Gillins, violin
Nathan Schram, viola
Hamilton Berry, cello
Brian Ellingsen, bass