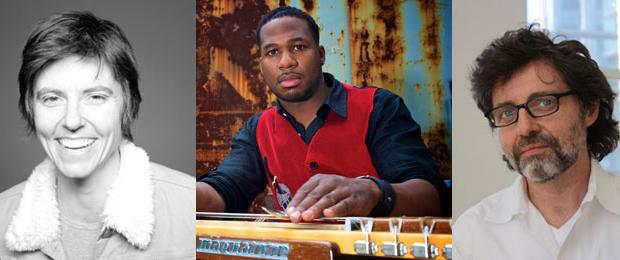 Soundcheck hosted an evening of music, storytelling and conversation with comedian Tig Notaro, "30 Rock" composer and producer Jeff Richmond and the high energy, pedal steel-led Robert Randolph & The Family Band.
Watch on-demand video of the entire show below: 
Tig Notaro traded in a career in the music biz for one in comedy – a choice that took an unexpected turn in 2012 when a series of traumatic events culminated in a now-legendary set at Los Angeles nightclub Largo. That performance became Notaro's second comedy album, called LIVE, which was released by the comedian Louis CK last year. Notaro is also a co-host of the weekly podcast "Professor Blastoff."
Jeff Richmond has been working in show business for three decades – most recently, as the composer for the NBC sitcom "30 Rock" (starring his wife, Tina Fey). He is a former musical director and songwriter for "Saturday Night Live" and is currently developing the musical adaptation of the 2004 film "Mean Girls."
Robert Randolph, pedal-steel guitarist, has been described by legendary record producer Don Was as "equal parts street-corner church and Bonnaroo." Before Robert Randolph & The Family Band release their Blue Note Records debut Lickety Split on July 16, the group joins us for a preview of their rollicking new material.