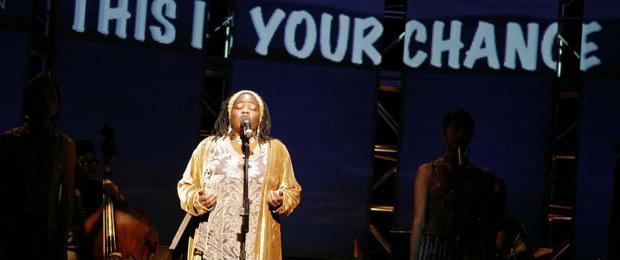 In the shadow of 9/11, the late New York artist Sekou Sundiata spent three years traveling through the U.S. gathering perspectives from ordinary Americans to create his last theater work, the 51st dream state. He sought to understand how he and others felt about being American during a time of terrorism and war and what future we could imagine and make possible. MAPP International Productions revives this expansive, illuminating work as an intimate performance in The Greene Space performed by the original cast of singers and musicans with LaTanya Hall taking over Sundiata's role as poet/narrator, directed by Arthur Yorinks, and hosted by John Schaefer as part of the Blink Your Eyes festival. 
Watch on-demand video of the performance below:
ABOUT THE FESTIVAL
Blink Your Eyes: Sekou Sundiata Revisited is a retrospective produced and curated by MAPP International Productions that celebrates Sekou Sundiata's broad vision for bold, rigorous, multidisciplinary artistic expression that emerges from a love for one's community, a passion for real democracy and social justice, and a vision for a better world. In venues across New York City from April to October 2013, the festival honors Sundiata's legacy through live performances by the artists he inspired — in the places and communities that inspired him.