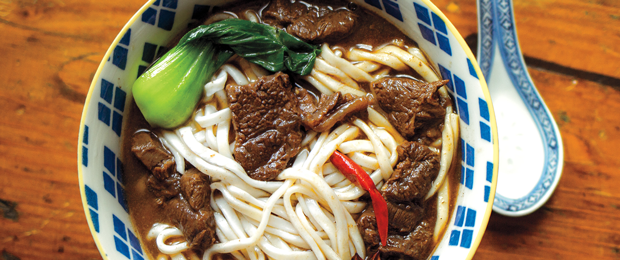 Sold out. Tune in Tuesday at 7pm for a live video webcast below.
Taiwan is a small island that's seriously fixated on food. With a diverse food history on the island, its unique flavors and culinary traditions are finding their way abroad, in tasty and unexpected ways. Join us in The Greene Space for a tour of what's cooking now led by Cathy Erway, author of the just-released cookbook The Food of Taiwan. She'll talk with James Beard Award-winning sommelier Belinda Chang; Brian Tsao, Executive Chef at Mira Sushi & Izakaya; Ken Ho, co-owner and Chef of the innovative Taiwanese-Mexican eatery Lucky Luna, and Matt Gross, "The Frugal Traveler" columnist for the New York Times and former editor of BonAppetit.com.
Watch live at 7pm:
After our panel, Cathy Erway will do a cooking demo of the gloriously messy, slurpy sensation that is the Taiwanese oyster omelet. And before you leave you'll enjoy authentic treats prepared by Chef Tsao, and local Taiwanese restauranteurs including Bian Dang, and Lucky Luna.
Event Tasting Menu:
Chef Brian Tsao: Pig Ear, Beef Tripe & Five Spice Tofu Salad with braised peanuts.
Bian Dang: Pork buns and minced pork sauce with pickled greens over jasmine rice.
Lucky Luna: Lotus Wraps made with sticky rice seasoned with coconut and birds eye chili's, shredded duck leg, braised peanuts, and pickled shiitake mushrooms.
Co-sponsored by TAP NY and TaiwaneseAmerican.org.