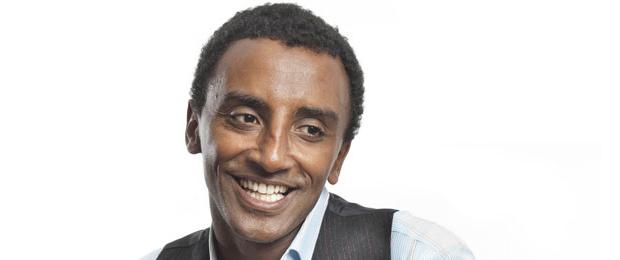 Going out to a restaurant can be a way of traveling around the world without setting foot on a plane. But do you ever get the feeling that, even here in New York where we have access to every cuisine imaginable, they're only serving up Americanized versions of what you'd find abroad? 
This season, Lopate and Locavores: Eating Around the World invites experts to share the authentic dishes from their countries that you wouldn't find in a restaurant.
Acclaimed chef Marcus Samuelsson helps WNYC's Leonard Lopate, a three-time James Beard Award winner, kick off his annual food series pairing culinary conversation with cooking demonstrations over three exciting evenings this month in The Greene Space. The Ethiopian-born, Swedish-raised chef and restaurateur will share key dishes from his African roots.
You can also watch a live webcast below at 7pm ET
Join the conversation using #LopateLocavores
Samuelsson is the celebrated chef behind Red Rooster Harlem, Ginny's Supper Club, and Norda Bar & Grill in Gothenburg, Sweden; a committed philanthropist; and the youngest person to ever receive a three-star review from The New York Times. Samuelsson has won multiple James Beard Foundation Awards including Best Chef: New York City, and was tasked with planning and executing the Obama Administration's first State dinner. He is the author of The New York Times bestselling memoir Yes, Chef and the cookbook, Marcus Off Duty: The Recipes I Cook At Home. In spring 2015, Marcus opened his second Harlem restaurant, Streetbird Rotisserie, a kitchenette. 
---
Also in Lopate and Locavores: Eating Around the World
Oct. 14 - Korean Cuisine with Maangchi
Oct. 21 - Indian Cuisine with Madhur Jaffrey