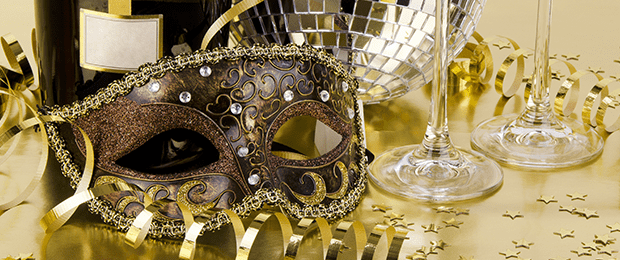 When is opera a party? When is a party theater? When it's The Opera Party, a new WQXR series in The Greene Space! 
Hear world-class live performances while enjoying delectable dishes created to match the music — and drinks you can take to your seat. MET Opera star Anthony Roth Costanzo curates and hosts three unfettered fêtes celebrating opera in a whole new way.
Opera stars will share the evening with chefs, raconteurs and genre-busting artists in a striking environment created for each event by artist Doug Fitch. 
Join us as we kick off the series with an evening of deception, reinvention and alternate realities co-hosted by F. Paul Driscoll, editor in chief of Opera News. Revel in performances by trail-blazing countertenor David Daniels, food that isn't quite what it seems by James Beard Award-winning chef Patrick Connolly and interactive sculpture sure to shatter your expectations. Mistakes have never been so fun. 
About the Hosts and Guests
Anthony Roth Costanzo (countertenor) makes his debuts at the Los Angeles Opera as the title role in Phillip Glass' "Ahknaten," the Finnish National Opera in Kaija Sariaaho's "Only the Sound Remains," the San Francisco Symphony Orchestra in performances of "Messiah," and with both the London Symphony Orchestra and the Berlin Philharmonic as Prince Go-Go in performances of "Le Grand Macabre," conducted by Sir Simon Rattle and directed by Peter Sellars. He also produces and stars in his critically acclaimed show, "Orphic Moments," at the Landestheater in Salzburg.  
Mr. Costanzo has appeared at the Metropolitan Opera as both Ferdinand and Prospero in the world premiere of "The Enchanted Island," and as Prince Orlofsky in a new production of "Die Fledermaus" after making his debut as Unulfo in "Rodelinda." He also recently made his debuts at the Lyric Opera of Chicago in the world premiere of Jimmy Lopéz' "Bel Canto" and the San Francisco Opera in "Partenope." He made his European debut at the Glyndebourne Festival in "Rinaldo," and has since appeared at the English National Opera in "The Indian Queen" and "Ahknaten," the Teatro Real in "Death in Venice" and in a performance of Britten's "Canticles" with Ian Bostridge and Julius Drake, and in concerts with Jordi Savall in Barcelona, Paris, and Versailles. He has also performed at Carnegie Hall, the Kennedy Center, on Broadway and in the Merchant Ivory film, "A Soldier's Daughter Never Cries." He graduated Magna Cum Laude from Princeton University where he has returned to teach, and received his masters from Manhattan School of Music. 
F. Paul Driscoll has been editor-in-chief of Opera News since 2003. He began contributing to the magazine in 1990 and joined the editorial staff as managing editor in 1998.
Mr. Driscoll has served as a lecturer and interviewer for InSight Cruises and Radisson Cruises; at Cooper Union; at the MBL Falmouth Forum Lecture Series; at Hunter College's Kaye Playhouse; at the Dahesh Museum; at the Museum of the City of New York; at CUNY Graduate Center in Manhattan; at the Art Song Festival at Baldwin-Wallace College; the Metropolitan Opera Club; the Wagner Society of New York; and the Metropolitan Opera Guild's "Singers Studio" interview series.
For two seasons, Mr. Driscoll was the host of OPERA NY, a weekly program for WNYE-TV, and was executive producer of the 2004 WNYE television special Vignettes: an Evening with Stephanie Blythe and Warren Jones, now in the permanent collection of the Paley Center for Media. He was regularly featured on WQXR's 2012 series "Opera in Brief" with Midge Woolsey. 
Mr. Driscoll has served as a competition judge for Plácido Domingo's Operalia, the Liederkranz Foundation, the Gerda Lissner Foundation, the Alan M. and Joan Taub Ades Competition at Manhattan School of Music and the Metropolitan Opera National Council (regional level). 
David Daniels is an American countertenor known for his superlative artistry, magnetic stage presence and a voice of singular warmth and surpassing beauty, which have helped him redefine the countertenor voice for the modern public.  
Highlights include the title role in "Orfeo" (Royal Opera House, Metropolitan Opera and Lyric Opera of Chicago); "Orlando," "Tamerlano" and "Rinaldo" (Bayerische Staatsoper); the title role in "Giulio Cesare" (Glyndebourne); Oberon "A Midsummer Night's Dream" (Metropolitan Opera, La Scala, Lyric Opera of Chicago and Gran Teatro del Liceu); Bertarido "Rodelinda" (Bolshoi) and his debut at the Wiener Staatsoper as Trinculo in Adès' "The Tempest." He also created the role of Oscar Wilde in Theodore Morrison's opera "Oscar" in Santa Fe. 
As much at home in recital as on the opera stage, he is admired for his performances of lieder and art song and has given recitals in New York, Paris, Berlin, Vienna, Barcelona, Moscow and at the Edinburgh, Tanglewood and Ravinia Festivals. 
David was the recipient of Musical America's Vocalist of the Year for 1999 and the 1997 Richard Tucker Award.  He was also the recipient of an Opera News Award in 2013. He is Professor of Music at the University of Michigan.