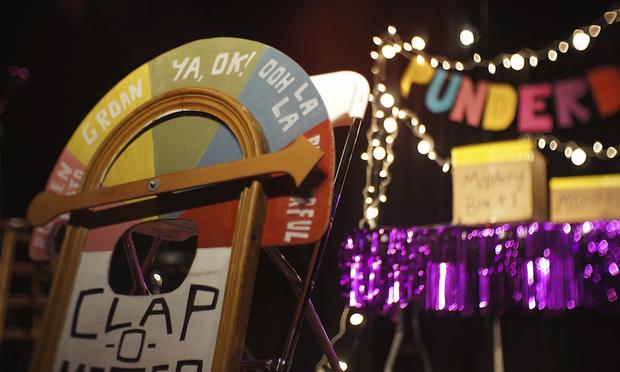 Part of New York City's comedy landscape since 2011, Punderdome is a wild and crazy pun competition created by a "Rodney Dangerfield impersonator" and his alleged daughter: Fred and comedian Jo Firestone.
Having done more than 90 monthly shows in the city over eight years, Punderdome takes over tonight's Podcast Mixtape as they prepare to transition from stage to podcast!
Join Fred Firestone as he hosts a night of competitive, spontaneous pun-making. Six individuals/duos will be selected from sign-ups at the door to compete with six Punderdome Champs for kitchen appliances and "As Seen on TV" items. Pun-masters are chosen by the "Human Clap-O-Meter." Warning for the faint of heart: the 'Dome is a spectator sport. It gets loud. Decide to attend at your own risk!
Get a peek inside Punderdome: 
More about Punderdome
The New York Times referred to the Punderdome as "both an endearingly homemade and impressively high-caliber show during which astute wordsmiths (including a crew of beloved regular punsters) spin clever and very funny puns to a packed house." GQ magazine shouted the Punderdome as one of the "5 Funniest Nights in America," and quoted comedian Chris Gethard on why it's great: "The crowd. You'd think you were at the Roman Colosseum. They're passionate, to a level that feels dangerous. And to reiterate, this is a pun competition."
---
This is a demo, a rough draft, a sample. Monday nights in The Greene Space we swap studio postproduction for real-time ruckus with tapings of your favorite podcasts, sneaky peeks of unreleased pilots and works-in-progress, conversations with the people who make great tape, and audio experiments of all kinds. Take the earbuds out, grab a drink, and get live with your fellow listeners.