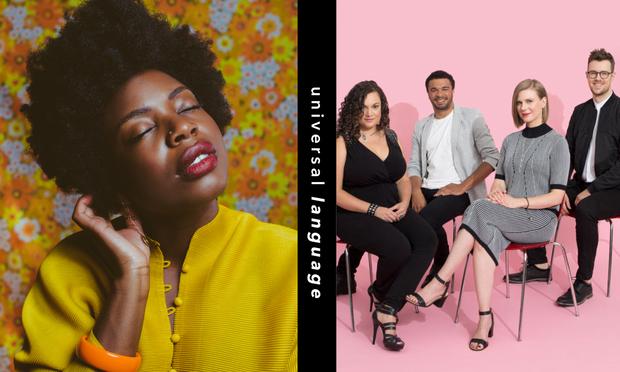 Committing to a genre, canon or industry in 2019 can feel exhausting. How do musicians practicing today go beyond institutions and push musicianship into more inclusive territory?
If your artistry has been labeled in ways that feel limiting, boxed in or unnecessary, this performance and discussion is meant for you. Join PUBLIQuartet and Melanie Charles, musicians who refuse to be genre-dependent, for performances, discussion and a hosted improvisation.
Add your voice and perspective to this open conversation about what it means to survive conservatory training and work as a musician today. 
Hosted by Jocelyn Bonadio-de Freitas and violinist Jessica McJunkins.
About the Guests
Melanie Charles is a Brooklyn-born singer-songwriter, actress, and flutist of Haitian descent, with a creative fluidity spanning jazz, soul, experimental, and Haitian roots music. Charles' latest release "The Girl with the Green Shoes" established her as a progressive voice in Jazz catching the attention of India Arie and a feature in The New York Times Sunday routine as well as The Village Voice. Her latest venture, Make Jazz Trill Again, traces the Journey of Black music from the Haitian Folk songs to Negro Spirituals, from the Blues to Nancy Wilson and Hugh Masekela. Charles creates a space where tradition meets present time, using Roland SPs, loop pedals, and the flute to blur the lines between and among social classes, cultures, genders, and theories to create a world where opposing elements can co-exist.
PUBLIQuartet's creative programming lends a fresh perspective to the Classical music scene. Dedicated to presenting new works for string quartet, PUBLIQuartet was selected as Concert Artists Guild's New Music/New Places Ensemble at the 2013 CAG Competition, and then garnered Chamber Music America's 2015 ASCAP Adventurous Programming Award for outstanding and innovative approaches to contemporary classical, jazz, and world chamber music. PQ's genre-bending programs range from 20th century masterworks to newly commissioned pieces, alongside reimaginations of classical themes featuring open-form improvisations that expand the techniques and aesthetic of the traditional string quartet.