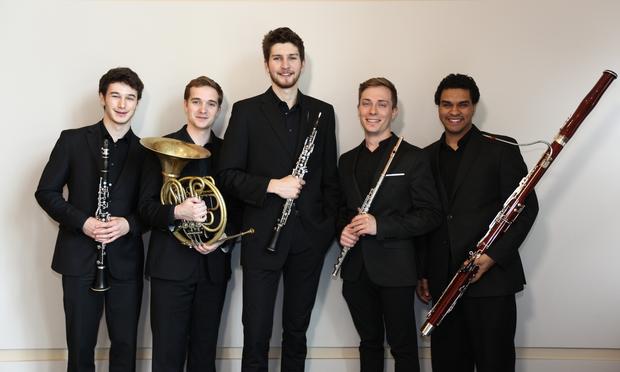 Take a respite from your busy work day with a free concert presented by WQXR. Leave the emails, phone calls and work behind and settle in for an hour of musical serenity.
For the first Midday Masterpieces concert in the new year, Juilliard's Tangent Winds join us to perform works by Ravel, Rameau, and others.
About Tangent Winds:
Founded at The Juilliard School in 2017, Tangent Winds was the Bronze Medal winner at the 2018 Fischoff National Chamber Music Competition. In the coming season, the ensemble will be Artists in Residence at Church of the Blessed Sacrament in New York City. 
Tangent Winds is dedicated to delivering vibrant performances of standard woodwind quintet repertoire, as well as commissioning and presenting new works - current commissions include works by Theo Chandler and Buck McDaniel.
Members of Tangent Winds have performed with such ensembles as the New York Philharmonic, The Philadelphia Orchestra, American Ballet Theater, and the Des Moines Symphony.
 → See full schedule and make reservations here.