Annie Novak is founder and director of the nonprofit organization Growing Chefs: Food Education from Field to Fork; farmer and co-founder of the Eagle Street Rooftop Farm in Greenpoint, Brooklyn; and an educator for the New York Botanical Gardens.
A lifelong vegetarian, Annie's passion for agriculture began while working with West African chocolate farmers. Annie has since followed food crops to their roots, farming internationally from Bolivia to Turkey; her adventures are cheerfully blogged at www.GrowingChefs.org. Facts about Eagle Street Rooftop Farm can be found here: http://docs.google.com/Doc?docid=0AZg5tgioBjkyZGQyYjdxZGZfNDBkZGo5a2tncw&hl=en .
 
A Chicago native turned New Yorker, Annie has worked with the CENYC Greenmarket, Slow Food, and Just Food advocating for the growth of urban agriculture throughout NYC.
Annie Novak appears in the following: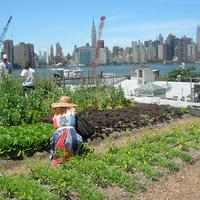 Thursday, April 8, 2010
7:00 PM
Hear author/radical gardener, Fritz Haeg; urban farmer & founder of Growing Power Will Allen; Manhattan Borough President, Scott Stringer; and Eagle Street Rooftop Farms founder Annie Novak tell real-life stories about how urban gardens and farms are transforming the way we live.