Cey Adams, a New York City native, emerged from the downtown graffiti movement to exhibited alongside fellow artists Jean Michel Basquiat and Keith Haring. During the early 80's he also appeared in the historic PBS documentary Style Wars tracking subway graffiti in New York. He has a long standing professional relationship with hip hop mogul Russell Simmons.
As the Creative Director of Def Jam Recordings he co-founded the Drawing Board, the label's in-house visual design firm, where he creating visual identities, album covers, logos and advertising campaigns for Run DMC, Beastie Boys, LL Cool J, Public Enemy, Notorious B.I.G., Maroon 5 and Jay-Z. In recent years he was hired by Dave Chappelle to create the logo for Chappelle's Show.
With a career now spanning three-decades, Cey continues to bring his unique work to new audiences collaborating with brands including Adidas, Nike, Coca-Cola, Burton Snowboards and JanSport. He lectures and teaches art workshops at institutions including: Walker Art Center, Pratt Institute, Howard University, Atlanta Contemporary Art Center, Brooklyn Academy of Music, and high schools throughout Canada the US. His book, "DEFinition: The Art and Design of Hip Hop", was recently published by Harper-Collins.
Cey Adams appears in the following:

Friday, September 09, 2011
Look This commemorative installation for the 10th anniversary of September 11, 2001 when thousands of lives were lost and the landscape of New York City was changed forever speaks to...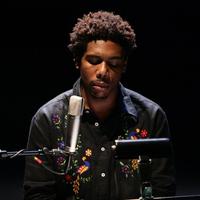 Thursday, September 8, 2011
7:00 PM
Poet and performer Carl Hancock Rux is joined by actors Joan Allen, Rocco Sisto, Peter Strauss, Rachel Ticotin, Ruben Santiago-Hudson and Ty Jones for stories and remembrances, with live music from cellist Dana Leong and an art installation by Cey Adams.