David Bouley is a chef, author and restaurateur with a collection of acclaimed restaurants in downtown New York's TriBeCa: Bouley, Brushstroke, Bouley Test Kitchen and a new event space called Bouley Botanical. He is the winner of the James Beard Foundation's award for best restaurant and best chef.
David Bouley appears in the following:

Thursday, October 09, 2014
Leonard Lopate talks with Lidia Bastianich, David Bouley and Andrew Carmellini about the thrills and challenges of building a collection of restaurants in New York City and beyond.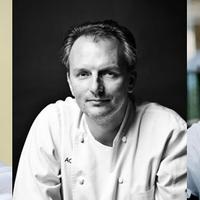 Wednesday, October 8, 2014
7:00 PM
Wed, Oct. 8 | WNYC's Leonard Lopate talks with Lidia Bastianich, Andrew Carmellini and David Bouley. A live video webcast will be available.