Jami Floyd is the local host of "All Things Considered," which airs from 4 p.m. until 8 p.m. weekdays. You can follow her on Twitter @jamifloyd.
Jami was born and raised in New York City and grew up listening to WNYC. She has been a news junkie ever since childhood, when she delivered newscasts for her grandmother from the dining room table. She went on to serve as editor-in-chief of her high school newspaper, ombudsperson for the college newspaper and DJ for WHRW, the campus radio station at Binghamton University (S.U.N.Y.). At Berkeley Law School, she was selected as an associate editor of the prestigious California Law Review, where she also published.
In a journalism career that spans two decades, Jami has worked on everything from breaking news to exclusive interviews to long-form investigations. Her broadcast career began while teaching law at Stanford University, when she was invited to appear on a prime time ABC special, "The Trouble with Lawyers." Following the appearance, she was invited to serve as a legal analyst for KPIX Radio in San Francisco during the OJ Simpson murder trial. Jami then moved to reporting local news for KPIX-TV. In 1995, she joined CBS News in New York and, in 1998, moved over to ABC News. There, she served for nearly a decade in various capacities, including Law & Justice Correspondent, the youngest person to hold the post. In that role, Jami covered a range of issues such as the innocence movement, civil rights, the U.S. Supreme Court, the contested 2000 presidential election, and the 9/11 terrorist attacks.
In 2006, she launched her own program at Court TV called "Jami Floyd: Best Defense," a daily legal and political talk show, which enjoyed a five-year run. Over the years, she has appeared as a commentator on many news outlets including CNN, Fox News, NBC, MSNBC, and PBS.
Jami has won numerous awards, including the Gracie, two Tellys, the Maggie and two Cine-Golden Eagle Awards for journalism. In September 2015, she was named a Public Scholar by the New York Council for the Humanities, for a two year term. She particularly enjoys in-depth conversations with newsmakers. Among the most memorable: Hillary Clinton, Donald Trump, and former Illinois Gov. Rod Blagojevich, cited by The New York Times for its barrage of "hard-hitting" questions. She still considers her interview with Myrlie Evers-Williams, widow of slain civil rights leader Medgar Evers to be her most meaningful, ever.
Jami Floyd appears in the following:

Wednesday, June 06, 2018
Join Jami Floyd as she talks to Elie Mystal, Alex Barnett, and Veronica Jordan about how they navigate conversations about race with their partners and multiracial children. 

Thursday, March 15, 2018
Jami Floyd hosts a conversation with writer Anna Holmes, writer Tanya K. Hernández and social justice activist Sophie Ellman-Golan.

Tuesday, February 20, 2018
Hear our panel of social entrepreneurs discuss how they are supporting and advocating for immigrant communities as the political debate on the issue intensifies. WNYC's Jami Floyd hosts.

Tuesday, February 13, 2018
Hear from social entrepreneurs about how they're working to create solutions for one of the world's most complex problems. Hosted by WNYC's Jami Floyd.

Tuesday, February 06, 2018
Hear from social entrepreneurs about how they are trying to expand educational opportunities beyond the school building and into the communities that need them. WNYC's Jami Floyd hosts.

Tuesday, January 30, 2018
Hear from social entrepreneurs about how they're creating greater civic engagement by connecting communities, amplifying voices, and creating change. Hosted by WNYC's Jami Floyd.
Monday, June 12, 2017
Join WNYC's Jami Floyd for a conversation about the evolution of biracial and multiracial identity in America 50 years since the landmark Loving v. Virginia decision.

Thursday, January 12, 2017
Watch the final installment of our four-part event series with social entrepreneurs who are creating innovative pathways to employment here in New York City.

Wednesday, January 11, 2017
WNYC's Jami Floyd hosts this exploration of ways to bring healthcare to those who have been neglected and left behind as part of our Solutions Week. 

Tuesday, January 10, 2017
Hear from social entrepreneurs who are bringing justice back to the criminal justice system. Hosted by WNYC's Jami Floyd.

Monday, January 09, 2017
Hear from social entrepreneurs who aren't buying the tech industry's excuses for the diversity gap — and are instead hacking the culture of tech. Hosted by WNYC's Jami Floyd.

Thursday, January 28, 2016
How are today's policies ushering our nation's most at-risk children from classrooms to prisons? A conversation hosted by WNYC's Jami Floyd.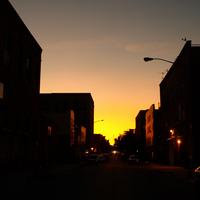 Monday, May 2, 2011
7:00 PM
Is "stop-and-frisk" an effective preemptive strategy for crime prevention or a case of racial profiling? Join panelists on both sides of the issue in The Greene Space to discuss how "stop-and-frisk" affects New Yorkers in their everyday lives.