John Dias (Producer)assumed his position as Artistic Director of Two River Theater in August 2010 after working as a producer and dramaturg in New York for 20 years. Based in Red Bank, NJ, Two River is led by John and Managing Director Michael Hurst. The theater is dedicated to producing great classics from the American and world stage, creating new plays and musicals for the American theater, and serving its community through unique partnerships and education programs. Throughout his career, John has been a leading advocate for bold new American plays and stimulating productions of the classics, including the Broadway productions of Lisa Kron's Well and Shakespeare's The Tempest. For 12 seasons, he worked in a variety of capacities at The Public Theater/New York Shakespeare Festival, including Associate Producer and Associate Artistic Director. While at The Public, he worked with Suzan-Lori Parks on the development and premieres of The America Play, Venus, In the Blood, Topdog/Underdog, Fucking A, The Book of Grace, and 365 Days/365 Plays.He has been a Tony Award nominator, a consultant for the National Endowment for the Arts and numerous other organizations, and he has taught at New York University and Yale University. John currently teaches in the graduate school at Columbia University. He received his BA from George Washington University and his MFA from the University of Massachusetts at Amherst.


John Dias appears in the following: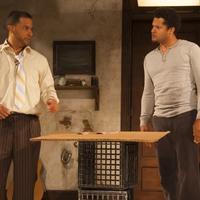 Monday, September 24, 2012
7:00 PM
Suzan-Lori Parks' Pulitzer Prize-winning tragedy Topdog/Underdog is one of the most powerful dramas in the American theater. Acclaimed for its taut theatricality and surprising humor, the play tells the story of two brothers, Lincoln and Booth—names given to them as a joke by their father, as ...