Three-time Peabody Award winner, four-time Emmy winner and "Dateline NBC" correspondent, John Hockenberry has broad experience as a journalist and commentator for more than two decades. He is the anchor of the new public radio morning show The Takeaway on WNYC and PRI. He has reported from all over the world, in virtually every medium, having anchored programs for network, cable and radio.
Hockenberry was responsible for two of the most innovative programs to air on MSNBC. Hockenberry joined NBC as a correspondent for "Dateline NBC" in January 1996 after a fifteen-year career in broadcast news at both National Public Radio and ABC News. Hockenberry's reporting for "Dateline NBC" earned him three Emmys, an Edward R Murrow award and a Casey Medal. His most prominent "Dateline NBC" reports include an hour-long documentary on the often-fatal tragedy of the medically uninsured, an emotionally gripping portrait of a young schizophrenic trying to live on his own, and extensive reporting in the aftermath of September 11th.
In 2009, Hockenberry was appointed to the White House Fellows Commission by President Barack Obama where he participates in the selection of the annual Fellows for this most prestigious of Federal programs.
Hockenberry is also the author of "A River Out Of Eden" a novel based in the Pacific Northwest and "Moving Violations: War Zones, Wheelchairs and Declarations of Independence," a memoir of life as a foreign correspondent which was a finalist for the National Book Critics Circle Award in 1996. He has also written for The New York Times, The New Yorker, I.D., Wired, The Columbia Journalism Review, Details, and The Washington Post.
Hockenberry spent more than a decade with NPR as a general assignment reporter, Middle East correspondent and host of several programs. During the Persian Gulf War (1990-91), Hockenberry was assigned to the Middle East, where he filed reports from Israel, Tunisia, Morocco, Jordan, Turkey, Iraq and Iran. He was one of the first Western broadcast journalists to report from Kurdish refugee camps in Northern Iraq and Southern Turkey. Hockenberry also spent two years (1988-90) as a correspondent based in Jerusalem during the most intensive conflict of the Palestinian uprising. Hockenberry received the Columbia Dupont Award for Foreign News Coverage for reporting on the Gulf War.
Born in Dayton, Ohio, Hockenberry grew up in upstate New York and Michigan, and attended both the University of Chicago and the University of Oregon.   Hockenberry and his wife, Alison, live in New York City with their children, Zoe, Olivia, Zachary Regan and Ajax: two sets of twins, and a solo latecomer.  
John Hockenberry appears in the following:

Wednesday, February 19, 2014
Sir Ian McKellen stopped by The Greene Space on Tuesday, February 18 for an intimate conversation on his life and career with The Takeaway's John Hockenberry.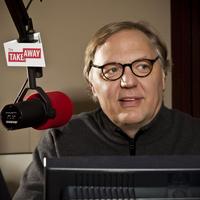 Tuesday, February 11, 2014
7:00 PM
Join The Takeaway host John Hockenberry for an evening of live music from One Ring Zero, drinks and conversation with some of the brightest lights in the mind-bending, down-the-rabbit hole world of codebreaking. Watch a live video webcast at 7pm ET.