The music of composer Marcos Balter (born1974 in Rio de Janeiro, Brazil) has been described by critics as "vital, imaginative...surrealistic" (The New York Times), "a virtuosic equilibrium of colliding particles [with] both intricate clarity and convincing trajectory" (The Boston Globe), "delicate" (Time Out Chicago), "a free-form mural in volume, touch, inflection, and presence" (FAME), "colorful, inventive...with vibrant sonics" (New Music Connoisseur), and "exciting and refreshing...agile, flexible and fragile" (Zeitschichten). 
His works have been championed by many of today's most prestigious and adventurous new music ensembles, performers, and organizations, including the Fromm Concert Series at Harvard University, the Lockenhaus Kammermusikfestival, the International Contemporary Ensemble, Carnegie Hall's Ensemble ACJW, Ensemble dal niente, Ensemble SurPlus, the Manhattan Sinfonietta, the New Millennium Orchestra, the Third Coast Percussion Quartet, the Holland America Music Society, MATA, Le Poisson Rouge, and Galapagos Art Space.
His main composition teachers were Augusta Read Thomas, Amy Williams, and Jay Alan Yim. He has also taken lessons in festivals and master classes with Louis Andriessen, George Benjamin, Pierre Boulez, Oliver Knussen, Christian Lauba, Tristan Murail, Bernard Rands, Wolfgang Rihm, and Kaija Saariaho, among others. Past awards and honors include the Leonard Bernstein Fellowship at the 2005 Tanglewood Music Center, commissions from foundations such as Meet The Composer and the 2008 HAMS International Violin Competition as well as first prizes at several national and international composition competitions. In 2009, violist and new music champion Nadia Sirota recorded two of his works in her debut CD First Things First, which was included by both The New York Times and Time Out New York in their lists of best classical recordings of the year. Forthcoming projects include a new CD entirely dedicated to his music by The International Contemporary Ensemble, a partnership with the Liss Fain Dance Company at the Internationale Tanzmesse NRW in Düsseldorf, Germany, a new concerto for clarinet and wind ensemble to be premiered by Michael Norsworthy and Eric Hewitt, and a portrait concert at the Chicago Museum of Contemporary Arts, as well as performances in several cities in the United States, Europe, and South America.
 Balter currently lives in Chicago, dividing his time between composing and teaching at Columbia College Chicago, where he is the Director of Music Composition Studies. Having previously taught at the University of Pittsburgh and Lawrence University, he is also currently a visiting professor of composition at Northwestern University.
Marcos Balter appears in the following: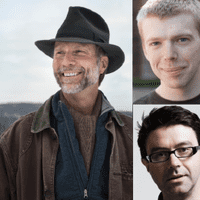 Tuesday, June 24, 2014
7:00 PM
Celebrate the launch of Q2 Music's groundbreaking new podcast, Meet the Composer, with a music party in The Greene Space at WQXR!