Suzan-Lori Parks (Playwright and Director) won the 2002 Pulitzer Prize for Drama for Topdog/Underdog, becoming the first African-American woman to do so. Her work is the subject of the PBS film TheTopdog Diaries. Named one of Time magazine's "100 Innovators for the Next New Wave," her plays include TheBook of Grace, Father Comes Home from the Wars, Fucking A, In the Blood (Pulitzer Prize finalist), Venus (Obie Award), The America Play, The Death of the Last Black Man in the Whole Entire World, and Imperceptible Mutabilities in the Third Kingdom (Obie Award for Best New American Play). She adapted the book of the classic opera The Gershwins'Porgy and Bess, winner of the 2012 Tony Award for Best Musical Revival. In 2007, her project 365 Days/365 Plays was produced in more than 700 theaters worldwide, creating one of the largest grassroots collaborations in theater history. A student of James Baldwin, with whom she credits the launch of her interest in playwriting, Parks is a MacArthur "Genius" Award recipient and has been awarded grants by the National Endowment of the Arts, Rockefeller Foundation, Ford Foundation, and New York State Council on the Arts. She is the recipient of a Lila-Wallace Reader's Digest Award, CalArts/Alpert Award, and Guggenheim Foundation Grant, and she is an alumna of Mount Holyoke College and New Dramatists. She's written screenplays for Brad Pitt and Denzel Washington, Girl 6 for Spike Lee, and she adapted Zora Neale Hurston's classic novel Their Eyes Were Watching God, which premiered on ABC's "Oprah Winfrey Presents." Parks' first novel, Getting Mother's Body (Random House, 2003) is set in the west Texas of her youth; she is currently at work on her second novel. In addition to her writing, she had a lead acting role in The Making of Plus One, which premiered at the Cannes Film Festival. She teaches at NYU, and is currently performing her experimental solo show, Watch Me Work, at The Public Theater, where she serves as Master Writer Chair. Please visit suzanloriparks.com. 
Susan-Lori Parks appears in the following: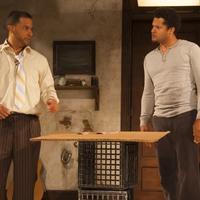 Monday, September 24, 2012
7:00 PM
Suzan-Lori Parks' Pulitzer Prize-winning tragedy Topdog/Underdog is one of the most powerful dramas in the American theater. Acclaimed for its taut theatricality and surprising humor, the play tells the story of two brothers, Lincoln and Booth—names given to them as a joke by their father, as ...