Will Allen, son of a sharecropper, former professional basketball player, ex-corporate sales leader, and now farmer, has become recognized as among the preeminent thinkers of our time on agriculture and food policy. The founder and CEO of Growing Power Inc., a farm and community food center in Milwaukee, Wisconsin, Allen is widely considered the leading authority in the expanding field of urban agriculture. At Growing Power and in community food projects across the nation and around the world, Allen promotes the belief that all people, regardless of their economic circumstances, should have access to fresh, safe, affordable and nutritious foods at all times. Using methods he has developed over a lifetime, Allen trains community members to become community farmers, assuring them a secure source of good food without regard to political or economic forces.
In 2008, Allen was named a John D. and Katherine T. McArthur Foundation Fellow and was awarded a prestigious foundation "genius grant" for his work – only the second farmer ever to be so honored. He is also a member of the Clinton Global Initiative, and in February 2010, he was invited to the White House to join First Lady Michelle Obama in launching "Let's Move!" her signature leadership program to reverse the epidemic of childhood obesity in America. Will Allen's work is prominently featured in the new documentary, FRESH, which opens theatrically at the Quad Cinema Friday, April 9th, and is supported by a week of local and sustainable food events around New York City. More information about Will Allen and Growing Power can be found at: http://www.growingpower.org.
Will Allen appears in the following: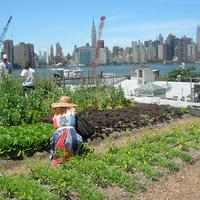 Thursday, April 8, 2010
7:00 PM
Hear author/radical gardener, Fritz Haeg; urban farmer & founder of Growing Power Will Allen; Manhattan Borough President, Scott Stringer; and Eagle Street Rooftop Farms founder Annie Novak tell real-life stories about how urban gardens and farms are transforming the way we live.