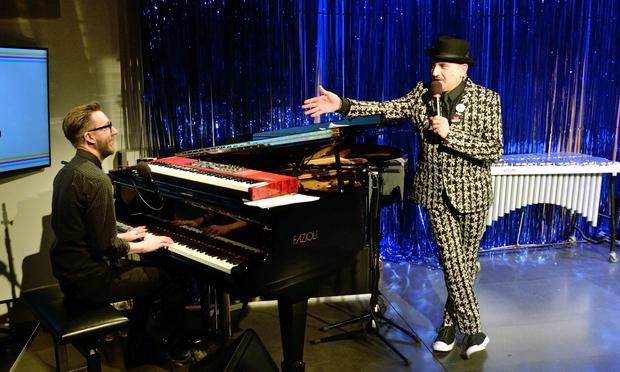 44 Charlton: A Variety Show
Bite into a hot slice of NYC life every first Friday of the month at 44 Charlton — the world's first and only variety show smashing together the gutsiest comedy, music, dance, theater, spoken word, and genre-bending performances on a single stage, hosted by the sometimes salty, always sexy Julian Fleisher.  
Come for the cheap drinks. Stay to become a part of spontaneous genius. The wheels might come off! The clothes might come off! Bring your expectations to the door, then pick them up again after the show. We promise not to rifle through them while you're tripping on our awesomeness.
About the Host
From Lincoln Center to downtown dive bars, all of New York is host Julian Fleisher's playground and stage. He's performed with, for or adjacent to an astonishing number of nightlife luminaries. Singer, writer, producer and host of WNYC Studios' The Naked American Songbook, he's never won a Peabody, but he was named "Best Calves Below 14th Street" by a committee of very earnest businessmen. Google him; we don't have the space to do his accolades justice.
Tickets
All tickets $15. Click on the links below to purchase. Stay tuned for guest announcements.
Video 
Want more 44 Charlton? Of course you do. Check out full video of all our past shows below!
Recently in 44 Charlton: A Variety Show

Friday, December 01, 2017
Watch a live video stream as host Julian Fleisher returns with his monthly mash-up of genre-bending performances. Tune in Friday, December 1 at 7pm.

Friday, November 03, 2017
Julian Fleisher hosts Tony Award winner Tonya Pinkins, John Roberts (Linda Belcher on "Bob's Burgers"), comedian Harrison Greenbaum and trumpeter Eganam Segbefia. 

Friday, June 02, 2017
In the final show of the season, Julian Fleisher hosts acclaimed dance company Pilobolus, stand-up comedian Liz Miele and theater performance by Elevator Repair Service. 

Friday, May 05, 2017
Hosted by Julian Fleisher and featuring comedian Wali Collins, singer-songwriter Jessica Rowboat, dance company The Dance Cartel and Prune restaurant's Gabrielle Hamilton.

Friday, April 07, 2017
44 Charlton is where you'll find a feast of music, comedy, dance, poetry and more – served up in our own SoHo studio the first Friday of every month. 

Friday, March 03, 2017
Watch a live video stream of our monthly feast of music, art, comedy and more. Hosted by Julian Fleisher. 
Friday, January 06, 2017
Watch a live video stream featuring comedy by Kenny Shults, poetry by Miles Hodges, circus performance by Eric Schmalenberger and music by American Candy and Champagne Jerry. 

Friday, December 02, 2016
Watch a live video stream of tonight's show featuring cabaret and cooking by chef Daniel Isengart, music by Paris Monster and Amber Martin, and a theater performance by Neofuturists NYC.

Friday, November 04, 2016
Watch a video stream featuring music by Julian Velard and Vicky Kristina Barcelona, comedy by Sydnee Washington, illusions by Steve Cuiffo and a boylesque act by James Tigger! Ferguson. 

Friday, October 07, 2016
Featuring comedian Michelle Buteau, music by Adam Platt and Amy Leon, a scary story from horror filmmaker Larry Fessenden and a performance by Adrienne Truscott.