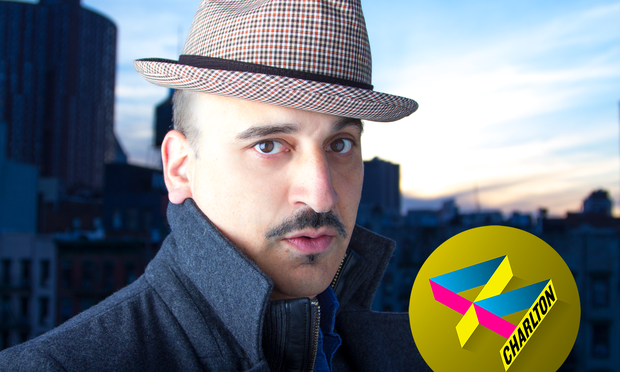 44 Charlton: A Variety Show
Downtown is still weird and wonderful and we've got the variety show to prove it!
44 Charlton is the place where you'll find a feast of music, comedy, dance, poetry, art, and more – all served up right here in our own Soho studio on the first Friday of every month. Hosted by the inimitable Julian Fleisher and powered by brilliant performers who call the five boroughs home, it's a celebration of the vibrant creative life of our city and we dare say, the most fun you can have for $15.
Like all great parties, 44 Charlton will contain strong opinions, adult language, and NSFW performances.  
---
TICKETS
All shows are $15. Stay tuned for more guest announcements. Click the links below for tickets.
Featuring spoken word and poetry by Kelly Tsai, music by Michael R. Jackson and Shakina Nyfack, a performance by impressionist Adam Hamway a special appearance by Mo Rocca. 
Featuring comedy by Leah Bonnema, music by Shouthouse and a beatbox performance by Kaila Mullady.
Featuring comedian Wali Collins and immersive dance company the Dance Cartel.
Featuring a performance by internationally acclaimed dance company Pilobolus and stand-up comedian Liz Miele. 
Recently in 44 Charlton: A Variety Show

Friday, March 03, 2017
Watch a live video stream of our monthly feast of music, art, comedy and more. Hosted by Julian Fleisher. 

Friday, January 06, 2017
Watch a live video stream featuring comedy by Kenny Shults, poetry by Miles Hodges, circus performance by Eric Schmalenberger and music by American Candy and Champagne Jerry. 

Friday, December 02, 2016
Watch a live video stream of tonight's show featuring cabaret and cooking by chef Daniel Isengart, music by Paris Monster and Amber Martin, and a theater performance by Neofuturists NYC.

Friday, November 04, 2016
Watch a video stream featuring music by Julian Velard and Vicky Kristina Barcelona, comedy by Sydnee Washington, illusions by Steve Cuiffo and a boylesque act by James Tigger! Ferguson. 

Friday, October 07, 2016
Featuring comedian Michelle Buteau, music by Adam Platt and Amy Leon, a scary story from horror filmmaker Larry Fessenden and a performance by Adrienne Truscott.