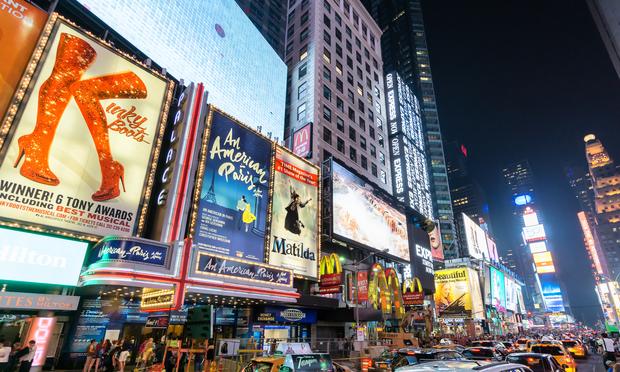 City Center Encores! Unscripted
The history of the American musical is both glorious and complicated. What can we learn by examining where the Broadway musical has been and where it's going?
The Greene Space and New York City Center have teamed up for another season of Encores! Unscripted — conversations and performances that expand on the center's Tony-honored series and explore how musicals have reflected and shaped American life.
→ Watch video of past conversations
---
Fall 2016 Schedule and Tickets
Tickets $20 and shows begin 7p.m. at The Greene Space, 44 Charlton Street
How Broadway Sings America
Mon, Oct 17

American musicals have always reflected the national mood, and many have tried to reinforce — or question — the character of the land that gave them birth.
"Oklahoma!" can be read as a wartime expression of national pride, while "Follies reflected a country, embittered by Vietnam and the torn fabric of the American dream. Broadway shows are often derided as being out of touch with contemporary life, but host Jack Viertel will make the case that musicals have been taking the nation's pulse for over a century.
---
Putting It Together: The Art of Adaptation on Broadway
Mon, Dec 19

In the words of Andrew Lloyd Webber, "'Cats' on paper was the worst idea conceivable."
Now that the most unlikely hit musical in history is back on Broadway, Encores! Unscripted will explore how the worst ideas sometimes evolve into commercial and critical triumphs. Composer Michael Friedman — who has written musicals about everything from Andrew Jackson to the porn industry — will host this exploration of the mystical art of transposing poems, cartoons, and novels onto the stage.
---
When Pop Writers Go Broadway
Mon, Jan 30 
Broadway's relationship with pop music is a rocky one. Burt Bacharach and Hal David triumphed with their swinging 1968 hit "Promises, Promises," but the team never wrote another musical — a pattern followed by subsequent Broadway one-timers like Paul Simon, Boy George, and Dolly Parton.
How do pop and rock songwriters adjust to writing for the theater? And why has the Broadway establishment been so resistant to their flawed but often fascinating shows? Hosted by Jack Viertel.
---
Love for Sale: The History of Sex in Musicals
Mon, Feb 27 

In the beginning, the Broadway musical had one thing on its mind: sex.
The chorus girls were leggy, the comedians were blue, and the songwriters were happy hedonists like Cole Porter, whose 1930 musical "The New Yorkers" featured songs so scandalous that they were banned on the radio. For decades after that, sex sold on Broadway, from the eroticized choreography of Bob Fosse to the nudie musicals that reigned supreme in the 1970s. Host Jack Viertel looks at 100 years of life upon the wicked stage. 
This series was generously sponsored by Margee and John Falk
Recently in City Center Encores! Unscripted

Monday, October 17, 2016
Broadway shows are often derided as being out of touch with contemporary life, but the American musical has actually been taking the nation's pulse for over a century. 

Monday, March 14, 2016
Watch our conversation with 'Bloody Bloody Andrew Jackson' composer Michael Friedman, 'Hamilton' stars Javier Muñoz and Betsy Struxness, and '1776' director Garry Hynes.

Monday, February 01, 2016
A conversation with legendary orchestrator Jonathan Tunick, music director Rob Berman and Tony Award-winning composer Jason Robert Brown.

Monday, December 14, 2015
How do we make sense of an art form that has perpetuated so many ugly stereotypes? A conversation with Tony winners Sheldon Harnick, Ruben Santiago-Hudson and Jeanine Tesori.