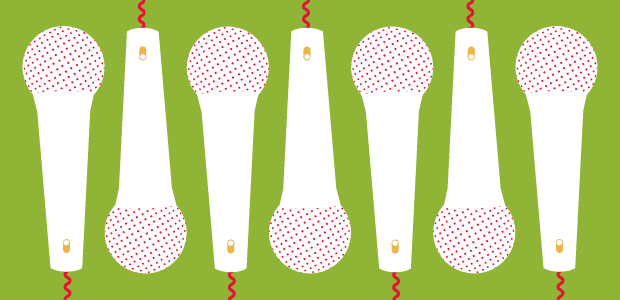 WNYC Studios Presents Live Podcast Tapings in The Greene Space 
See episodes of your favorite podcasts recorded live and uncut before they hit your earbuds. We'll be hosting a different taping at least once a month. Stay tuned for new show announcements.
Keep an eye on this page for upcoming show dates. Catch up on on-demand video of past shows below. 
Radiolab Presents More Perfect Live
Wednesday, September 6 
7pm

Radiolab and More Perfect podcast host Jad Abumrad and legal editor Elie Mystal convene a lively debate on the First Amendment, chatbots, "covfefe" — and how it all compares to IRL. Come ready to join the fray.
Recently in Live at WNYC Studios

Friday, November 20, 2015
Jesse Thorn explains how it's possible to merge the commercial world with nonprofit ideals and make your artistic aspirations a reality. 

Saturday, November 14, 2015
Carl Newman of The New Pornographers joined Hrishikesh Hirway for an exclusive live taping of his hit podcast, breaking down the song "Brill Bruisers." 

Wednesday, October 28, 2015
Host Anna Sale joined us live for an intimate conversation with the writer and activist on his new memoir, "The Education of Kevin Powell: A Boy's Journey into Manhood."