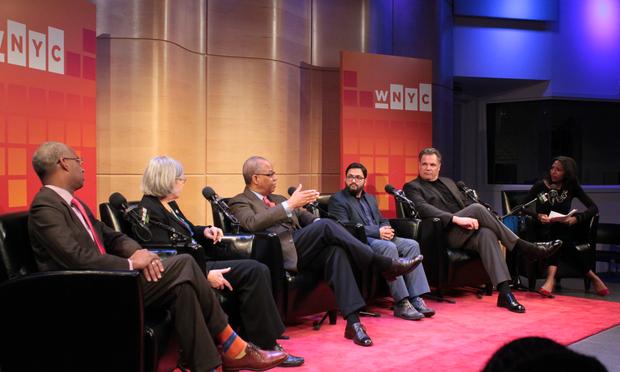 Live Election 2016 Coverage in The Greene Space
Join us as we take a deep dive into the election at The Greene Space — WNYC's living room-meets-public square. Through live journalism, conversation and performance, we'll explore the issues, ideas and newsmakers shaping our local and national politics.
→ Watch on-demand video of past shows below
Recently in Live Election 2016 Coverage in The Greene Space
Tuesday, November 08, 2016
Join us via live stream for our Election Night party with WNYC, in partnership with Guardian US and Refinery29. Games, commentary and live updates. 
Friday, November 04, 2016
Watch live as Brian talks with veteran journalist Bill Moyers, MSNBC's Chris Hayes, On the Media's Brooke Gladstone and Fordham University political professor Christina Greer and more.
Friday, October 28, 2016
Watch as Brian talks with Mayor Bill de Blasio, MSNBC's Joy Reid and performance artist Marina Abramović.   
Thursday, October 27, 2016
From the billions spent by Charles and David Koch to the small bills of Bernie supporters, whose money controls American politics? Featuring Dylan Ratigan, Mark Green and Glynda Carr.

Wednesday, October 26, 2016
Composer Michael Friedman takes America's political temperature, in song, featuring performances by Kristolyn Lloyd and Jeremy Pope. The New Yorker's Sarah Larson hosts.

Tuesday, October 18, 2016
The Takeaway challenges the notion of what is "politically correct" on both sides of the ideological spectrum. Featuring Sally Kohn, Jamilah King, Robby Soave and Moustafa Bayoumi.

Friday, October 14, 2016
With guests Neil deGrasse Tyson, New York Liberty's Swin Cash and Tina Charles, NPR's Peter Sagal, Alexandra Petri of The Washington Post and comedian and writer Ashley Nicole Black.

Monday, September 19, 2016
How has Barack Obama's presidency impacted national conversations on race, justice, and inequality? Keli Goff talks with Jonathan Alter, Don Lemon, Daryl Davis and Ron Christie. 

Thursday, September 01, 2016
Watch a global town hall hosted by The Takeaway's Todd Zwillich addressing the question: What would the world like to hear from the next American president?