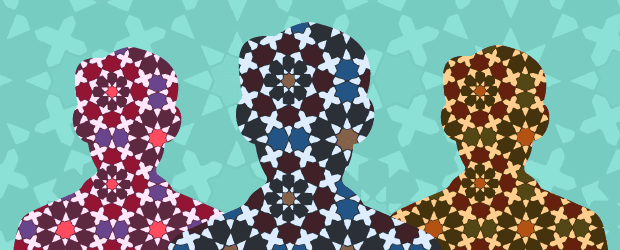 Muslim/American
New York City is home to over 600,000 Muslims, many with strong family ties to cultures rooted in Southeast Asia, North Africa, Europe, and the Middle East. The intersections of and conflicts between religious, ethnic, and cultural identities drives Muslim/American, a series of interactive, multimedia programs and intimate live performances in The Greene Space at WNYC. Join our diverse group of young artists, writers, chefs, comedians and journalists sharing experiences and expression, in person and online, throughout Spring 2015.
Recently in Muslim/American

Friday, May 29, 2015
What geographical and spiritual journeys do Muslim Americans take to better understand their faith? Featuring authors Sadia Shepard and Kenan Trebincevic, and comedian Alaudin Ullah.

Thursday, May 21, 2015
With Muslim spending on clothing across the globe set to reach $332 billion by 2018, why do so many Muslims still feel under-served by the mainstream fashion industry? 

Tuesday, May 12, 2015
Tell us what being a Muslim American means to you. We might feature your story during our events, on our air, and in our podcasts. Even better, record yourself and upload your story.

Friday, May 08, 2015
Why is halal food booming in the American marketplace now? A conversation and cooking demonstration hosted by Ibrahim Abdul-Matin.

Friday, April 10, 2015
Aasif Mandvi kicked off our Muslim/American series with a screening of his new show, "Halal in the Family" and a conversation about Muslims and television hosted by Dean Obeidallah.