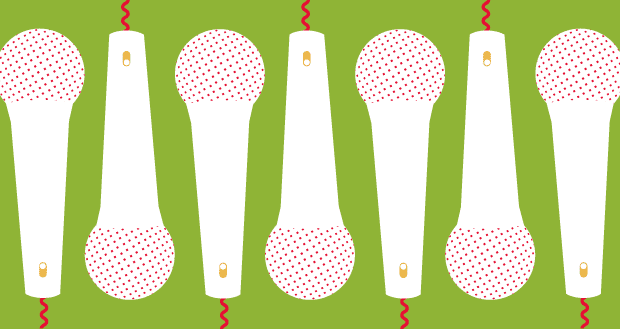 Podcast Mixtape
This is a demo, a rough draft, a sample. Monday nights in The Greene Space we swap postproduction for live ruckus with happy-hour tapings of your favorite podcasts, conversations with people who make great tape, and audio experiments of all kinds.
There will be drinks and time to mingle. We're live. We'll surprise. Be kind. 
See upcoming shows and buy tickets below.
Tickets include one free drink. Limited seating on a first-come, first-served basis.
The New York Times Podcast Club, IRL
Monday, July 24 at 7pm


Podcast obsessives, take a break from your earbuds to attend a first-ever live meetup of The New York Times Podcast Club, a weekly geek-out over the best on-demand audio that expanded from a NYT staff-only meeting to Facebook and now to The Greene Space.
We'll listen to a buzzed-about WNYC Studios episode over drinks, then hear the episode's creators discuss the ins and outs of how it was made with Samantha Henig, The Times' editorial director of audio.
---
Conor Oberst
Monday, July 31 at 7pm

Ever wonder what your favorite musician's podcast would sound like? If that musician is Conor Oberst (Bright Eyes, Desaparecidos, Monsters of Folk) wonder no more.
Join More Perfect correspondent Sean Rameswaram for an intimate evening of conversation, live performance from his latest album, Salutations, and an on-the-spot envisioning of what exactly The Conor Show would sound like.  One free drink on us and two free sets of jams from Studio 360's own DJ Basslines. 
Recently in Podcast Mixtape

Monday, July 24, 2017
Watch a live video stream as the podcast club talks about an episode of WNYC Studios' Death, Sex and Money with host Anna Sale and more. Tune in Mon, July 24 at 7pm

Monday, July 10, 2017
Would you give up your home if it could benefit the greater good? Watch video of our debate with Radiolab's Jad Abumrad and More Perfect's Elie Mystal.