Setting the Stage: Royal Shakespeare Company in New York
Wednesday, July 06, 2011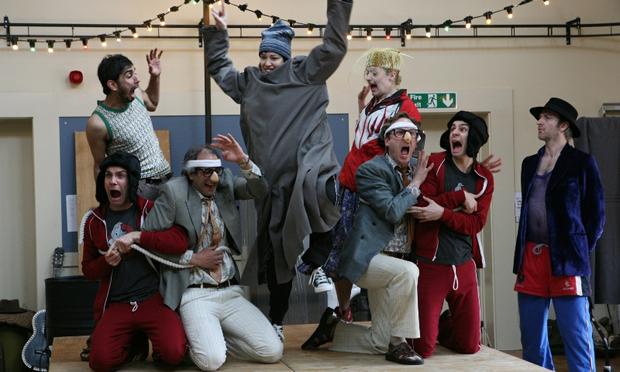 (Ellie Kurttz)
Royal Shakespeare Company, celebrating its 50th anniversary this year, has begun an historic six-week residency at The Park Armory and brought with them a facsimile of their entire, brand-new 1,000 seat playhouse.  It is a "thrust" stage that dissolves the boundaries between actors and audience, so that playgoers have an experience very close to that Shakespeare's contemporaries. WNYC producer Sarah Montague and New Theatre of Sound consultant Arthur Yorinks (with filmmaker David Maclean and The Greene Space technical director Ricardo Fernandez) spent time with RSC staff and company members in the weeks leading up to their New York tour. 
SETTING THE STAGE follows the final stages of a three-year journey, from the shipping of the final container to the beginning of construction at the Armory. On the way, we meet actors, directors, technicians, visit Shakespeare's birthplace, and generally explore the working life of an extraordinary company, who are the guardians of the legacy of an extraordinary playwright.
"

I've long regarded him as my favorite teacher about theater…raising the big questions about the heavens and hell and what it's like to be alive with knowledge of mortality, but with the dreams of angels.

— Michael Boyd

Recommended Links
---
CREDITS
SETTING THE STAGE: ROYAL SHAKESPEARE COMPANY IN NEW YORK was written, directed, and produced by Sarah Montague and Arthur Yorinks.
Executive Producer: Indira Etwaroo
Narrator: Elliott Forrest
Additional readings: Rex Doane and Graham Parker
Recorded by: Ricardo Fernandez and David McLean
Mix Engineers: Jim Briggs the Third, John DeLore and George Wellington
Joseph Papp's interview on Voice of America came from the New York Public Library Rodgers and Hammerstein Archives of Recorded Sound.
Production audio from The Comedy of Errors supplied by Digital Theatre.  Full video of RSC and other productions available from digitaltheatre.com.
Selections from The Merchant of Venice courtesy of Theatre for a New Audience.
Wedding Dance music came from the CD "Music for the Royal Shakespeare Company by John Woolf and Friends.
Special thanks to:
The Royal Shakespeare Company, Lincoln Center Festival, Park Avenue Armory, and Ohio State University, as well as New York Magazine, and Amy Holmes, Rockefeller Philanthropic Advisors. We are also grateful to Rupert Allman, Aaron Cohen, Sara Fishko, Andrew Joffe, Kate McGough, Eileen McMahon, Jeff Spurgeon, Liz Thompson, and Nada Zukula for their help with this production.
Setting the Stage: Royal Shakespeare Company in New York was made possible, in part, through the generous support of the Sidney E. Frank Foundation.
Setting the Stage is a production of WNYC, New York Public Radio.
More in: