In 2013, August Wilson's 'American Century Cycle'
Wednesday, December 19, 2012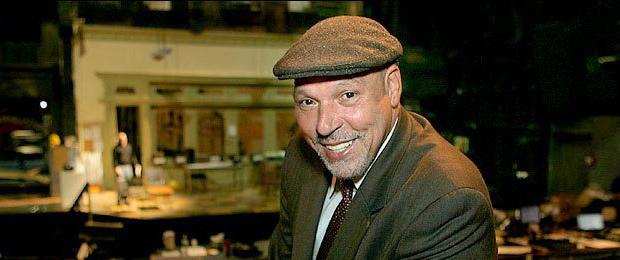 (Sarah Krulwich)
The August Wilson Estate has, for the first time, granted the rights to record all 10 plays of his "American Century Cycle" to The Jerome L. Greene Performance Space at WNYC and WQXR.
Beginning in 2013, The Greene Space — the events space of New York Public radio — will present live dramatic readings of each play in front a live studio audience. The recording sessions will also be available as live video web casts on NYPR websites and those of select organizations with a close affinity with Wilson's work. They will also be preserved in NYPR's archives for future research and educational purposes.
Indira Etwaroo, Executive Producer of The Greene Space, will serve as Executive Producer of the project. Tony Award-winning actor and director Ruben Santiago-Hudson, who collaborated with The Greene Space this year on the American radio drama adaptation premiere of Zora Neale Hurston's Their Eyes Were Watching God, has been tapped as the Artistic Director. Directors, cast and dates will be announced at a later time.
Wilson's "American Century Cycle" consists of 10 plays portraying the 20th century African American experience, from the early 1900's, when wounds from slavery and the Civil War were still fresh, to the 1990's, when even a large and increasingly influential black middle class could not escape persistent racial tensions.
"The August Wilson Estate is thrilled to partner with The Greene Space on this historical undertaking," said Constanza Romero, Wilson's widow and the executor of the August Wilson Estate. "Back in 1985, the cast recording of 'Ma Rainey's Black Bottom' received a Grammy Award. This was a meaningful moment for August, and I know he would be deeply moved that now his entire cycle is being recorded. When Indira approached me with this idea, it was truly a meeting of the minds. This is something I have been hoping for — a chance to transfer a theatrical experience which is usually ephemeral, to a medium that will preserve it for history. And this will happen with August's 'American Century Cycle' in the hands of many talented theatre artists who knew and worked with him. I think we all see this as a unique opportunity to keep his legacy alive-and-well for generations to come."
Etwaroo said she was deeply honored for The Greene Space to be the first organization entrusted with the rights to record "American Century Cycle," which she said masterfully and seamlessly translates to audio works.
"August Wilson created an unparalleled and indelible canon of work that speaks to the beauty and struggle of the African American journey and the universal relevance of these stories," said Etwaroo. "Constanza Romero's unwavering commitment to the legacy of her late-husband has created a pathway for projects, such as this. And Ruben's own career-long relationship with Wilson and his work, as well as our partnership on the Zora Neale Huston project, made him the natural choice to serve as Artistic Director on this historic endeavor."
Santiago-Hudson recalled a moment he once had with Wilson.
"'You need to be directing these plays,' is what August told me, watching me watch the creative process unfold from the wings," he said.
"The opportunity to convene several generations of what many call 'Wilsonian Soldiers,' but I simply call some of the finest actors in The Theater today, to create a blueprint, a guide for those who come after us to follow is significant," Santiago-Wilson said. "I am humbled with the opportunity to serve on this project and particularly excited that the technology of the 21st Century will help capture August's 'American Century Cycle' set in the 20th Century for generations."
American Century Cycle has receive philanthropic support from the Ford Foundation, whose mission is to support visionary leaders on the frontlines of social change, and the Jerome Robbins Foundation, whose mission is to support dance, theater and their associate arts.
Special permission for this project is provided by the Estate of August Wilson. For more information, please visit www.samuelfrench.com
The August Wilson American Century Cycle is presented, in part, with generous support from our signature sponsor:
For show dates and project announcements, keep tabs on our events calendar.
The 10 Plays of American Century Cycle:
1900s "Gem of the Ocean" - 1839 Wylie Avenue, set in 1904
1910s "Joe Turner's Come and Gone" - a boardinghouse, set in 1911
1920s "Ma Rainey's Black Bottom" – a band room and studio in Chicago, Illinois, set in 1927
1930s "The Piano Lesson" – a home with an heirloom upright piano, set in 1936
1940s "Seven Guitars" – backyard of a brick home with a cellar and window fronting the yard, set in 1948
1950s "Fences" – an urban neighborhood in an industrial city, set in 1957
1960s "Two Trains Running" – a restaurant across from a funeral home and a meat market, set in 1969
1970s "Jitney" – a neighborhood gypsy taxicab station, set in 1977
1980s "King Hedley II" – the backyard of two tenement homes, set in 1985
1990s "Radio Golf" – a real estate office, set in 1997
More in: