And the 2013 Battle of the Boroughs Contestants Are...
Tuesday, January 15, 2013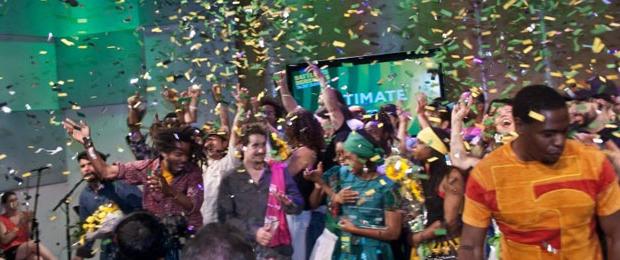 The Battle of the Boroughs is back for its fourth year! We put out the call for our citywide talent quest and hundreds of New York City's best emerging artists answered — bands and ensembles of all genres, instrumentalists, vocalists and DJs.
The Greene Space team whittled the submissions down to 64 acts representing all five boroughs. Now, these artists will do battle (see schedule below) for a chance to represent their borough in The Ultimate Battle on June 21. They'll compete not only for bragging rights, but prizes that are a dream for any aspiring artist: a featured concert in The Greene Space; a guest artist appearance at the famed Apollo Theater's Amateur Night; a live video webcast of their performance; a professional, multi-track recording session; a Tekserve package, including iPads; a professional photo shoot; and a produced music video.
Award-winning WQXR host Terrance McKnight returns as Battle series emcee. He'll be joined by an esteemed panel of judges, including: Geri Allen, pianist; John Schaefer, host of Soundcheck; Wes Jackson, Executive Director of the Brooklyn Hip-Hop Festival; Christian McBride, bassist and composer; Nona Hendryx, singer, songwriter, and producer; Franco Iemmello, Capitol Records; Chris Bannon of WNYC; Mike Rinzel of WQXR; Steve Pageot, Grammy Award-winning composer; and Hakim Bell, producer and songwriter.
Thanks to all the incredible artists who submitted to this year's quest. The entries left us inspired and were a testament to the excellence, range, diversity and vibrancy of New York's arts and music scene. And now (drum roll, please) we're excited to announce the 2013 Battle of the Boroughs contestants below. Let's get ready to battle!
BROOKLYN
Battle: Friday, February 1
WATCH NOW
QUEENS
Battle: Friday, March 1
WATCH NOW 
THE BRONX
Battle: Friday, April 5 
WATCH NOW 
STATEN ISLAND
Battle: Friday, May 3
WATCH NOW
MANHATTAN
Battle: Friday, June 7 
WATCH NOW
 
More in: