Craft Beer Jam 2014
Conversation, Consumption and Live Music
July 9, 16 and 23
Tuesday, June 10, 2014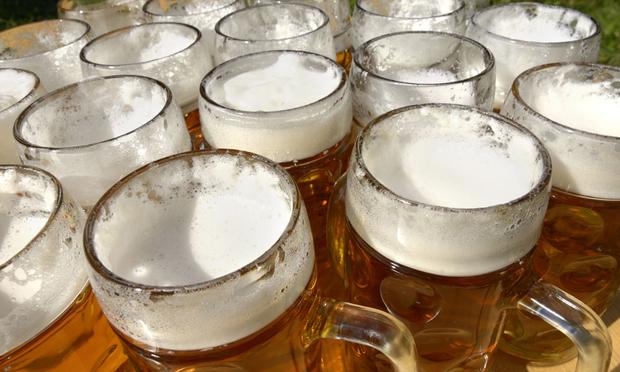 (Shutterstock)
Raise a glass in The Greene Space as we toast Good Beer Month in New York City! Join us for three Wednesday nights in July for beer-focused conversation, consumption and celebration. Enjoy beer tastings, snacks and live local music. Hosted by Jimmy Carbone of the internet radio show "Beer Sessions Radio" and co-founder of The Good Beer Seal. 
Beer in the 'Burbs
July 9 at 7pm
WATCH ON-DEMAND VIDEO

The most popular breweries on Long Island and in the Hudson Valley will be on hand to talk about the brewing scene in the suburbs, share their secrets of getting started in the business - and, of course, showcase their best beers in a tasting session. Featuring Tommy Keegan of Kingston's Keegan Ales, Paul Dlugokencky of Long Island's Blind Bat Brewery, and Justin Taylor and Adam Watson of Poughkeepsie's Sloop Brewing. Featuring live music from pop soul rock band The Dirty Gems.
Hops, Aroma and Flavor
July 16 at 7pm
BUY NOW!
We'll talk everything you need to know about hops - one of the main building blocks of beer. Long Island hop grower John Condzella, Kelly Taylor, of Kelso Brewing and president of the NYC Brewers Guild, and Mark Buford of Long Island's Blue Point Brewing Company join us for a guided tasting and to explain how different varieties of hops affect the bitterness, flavor and aroma of beer. Featuring live music from Brooklyn alt-soul band Aabaraki.
Pairing Beer and Food
July 23 at 7pm
BUY NOW! 
More and more restaurants are creating tasting menus that pair with beer instead of just wine, even hiring 'beer sommeliers' to craft a great beer list. We'll learn the principals of good pairing and taste a few perfect matches with guests Brendan Woodcock from Luksus At Tørst in Brooklyn, Augie Carton from New Jersey's Carton Brewing, and Christian Pappanicholas from The Cannibal in Midtown. Featuring live music from Brooklyn roots revivalist band Victor V. Gurbo & Co. 
More in: