DIGITAL PROGRAM | Dubliners: A Quartet
Cast, credits and playwright's notes
Monday, August 04, 2014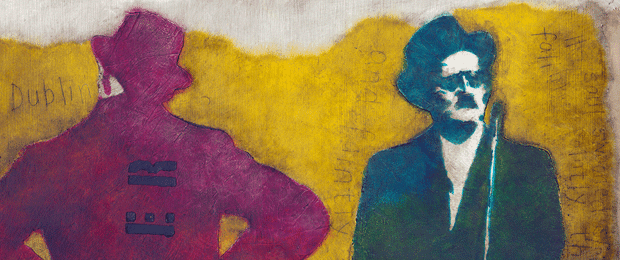 ("Dear, Dirty Dublin." Image by Jonathan Aiken, from the series HYJB)
"When I die, Dublin will be written in my heart." —James Joyce

DUBLINERS: A QUARTET
An audio play by Arthur Yorinks
inspired by the stories of James Joyce
About Dubliners
James Joyce's collection of short stories, Dubliners, is now one of the best-known and best-loved works of literature in the English-speaking world. But when it was first published one hundred years ago, after years of rejection, it was considered scandalous, sacrilegious, and grubby, and it sold only a few hundred copies.

Joyce told his publisher that he was using "dear, dirty Dublin" as a "nicely polished looking glass" through which the Irish might view—and redeem—themselves, and he presented them with a view that was both harsh and empathetic.

The fifteen stories in the collection record the lives of the overlooked—the poor, the mundane, working girls and wandering men. Colum McCann writes in his foreword to Penguin's centennial edition, "Joyce was unafraid to dwell in the alleys of the ordinary." His ear for colloquial speech, and his eye for detail, makes Joyce's Dublin into an inviting aural landscape. It, and its denizens, have remained with us for a century, because however distant the past and unfamiliar the circumstances, these characters' hopes and dreams, triumphs and tragedies, are recorded with a meticulous regard for humanity everywhere.

An Excerpt from the Playwright's Notes
[Read Full Playwrights Notes Here]
Just as Joyce wanted and required his stories to be published as one collection, one work, so too did I begin to realize that the four audio plays I was writing should be one play in four parts. There is a connective tissue between all of Joyce's Dubliners stories, and the poetic echoes in the four I chose recall a suite in four movements. Music is an indelible part of Irish culture and it naturally runs through these stories like threads in a tapestry and so it made perfect sense to use music to bind this work together. And though I meant for this play to be faithful to and illuminating of Joyce's literary triumph, it is by necessity my personal response to Dubliners as a reader first and then as a fellow writer, hoping in the end for it to be a Joycean experience in its own right. —Arthur Yorinks, New York City

Company
Cormac Cullinane
Terry Donnelly
Peter Gerety
Sean Gormley
Dana Ivey
John Keating
Sean McNall
Aedin Moloney
Maddy Sher
Fiana Toibin
Fiona Walsh

Supporting Players
Dominique Brillon
Adelind Horan
Jon Huggins
Hank Lin

Vocal Soloists
Glenn Seven Allen
Kathryn Guthrie
Mellissa Hughes

Chorus
Emily Calderin
Lauren Tucker Cross
Anna Giannicchi
Savannah Gordon
David Salyers
Stephen Weber

Musicians
Upright Piano: Cecilia Coleman
Grand Piano: Edward Barnes
Guitar: Steve Gibb
Fiddle: Calum Pasqua

Directors
Arthur Yorinks and Jim Simpson

Music Director
Edward Barnes

Casting
Calleri Casting

Dramaturg
Sarah Montague

Dialect Coach
Stephen Gabis

The Greene Space
Director, Live Events: Jennifer Keeney Sendrow
Technical Director: Ricardo Fernandez
Assistant Production Manager: Nancy Meuy Saechao
Video Producer: David McLean
Digital Producer: Joann Klimkiewicz
Live Sound Engineer: Gaines Legare
Recording Engineer: Chase Culpon
SFX: Ricardo Fernandez and Gaines Legare
Graphic Design and Lighting Design: Sahar Baharloo
Studio Tech: Milton Ruiz
Video Engineer: Carlo De Jesus
House Photographer: Matthew Septimus
Box Office Coordinator: Zach Broat
Production Assistant: Carina Abbaticchio
General Manager: Noreen O'Loughlin

Special thanks to
Kristen Scharold, Theodora Kuslan, Sara Troiano, Robin Bilinkoff, Rex Doane, Jennifer Houlihan Roussel, Mallika Dattatreya, Jane Kronenberg, Caledonia Kearns, Eoin Delap, Amy O'Hara, Janna Freed, Ivan Zimmerman, Erin Daley, Aiden Connolly, Rachael Gilkey, Nik Quaife, Kim Rossi, Jonathan Aiken, Rob Berry, Derick Dreher, Frank Delaney, Victor LaValle, Larry Kirwan, Tiffani Stephens, Nnena Jobe, Jordan McIntyre, Lars Dalhaus, and everyone at The Flea Theater.
More in: