A Merry, Merry Holiday Playlist
Wednesday, December 07, 2016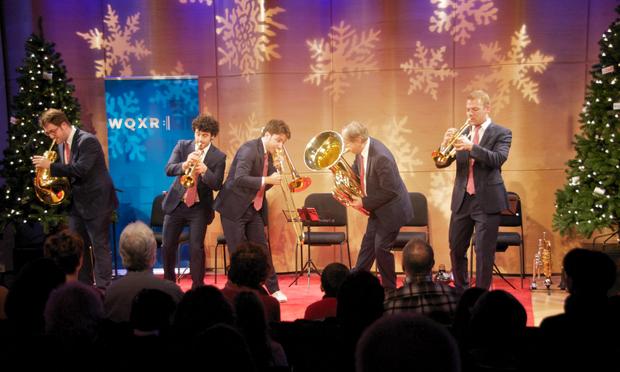 (Stephanie Black)
Whether you're decking the halls, wrapping presents or still frantically shopping online for them, we've got a few holiday playlists sure to get you into the spirit of the season. 
Press play on these video archives and playlists from some of our most merry performances of Christmas past. Featuring holiday classics, gospel favorites, whimsical reimaginings and classical arrangements - all recorded live on our stage.
---
The King's Singers returned to our stage to perform selections from their new album, Christmas Songbook, featuring a mix of traditional carols and modern-day classics with a hint of swing. Recorded live on our stage on November 30, 2016. 
---
Calmus Ensemble, the award-winning a cappella quintet from Leipzig, Germany, presented a program from their new Christmas album live on our stage for WQXR. The performances features sacred and secular carols spanning the centuries from Europe, Scandinavia, Russia and the Americas. Recorded live on our stage on Dec. 7, 2015. 
---
The Soul Now Sings: A Musical Christmas Journey tells the story of a world-weary New Yorker who has lost the joy of the holiday season. Written by Karen Chilton, it was commissioned by The Greene Space and composed by award-winning musician Damien Sneed. The musical features a cast of 20 singers and musicians performing Sneed's original arrangements of gospel, jazz and classical favorites. Enjoy our playlist of the 12 featured songs below. You can also watch or listen to the entire musical here. Recorded live on our stage on December 4, 2015. 
---
Violinst Joshua Bell joined us for an evening of holiday music with special guests Michael Feinstein, Frankie Moreno and the Young People's Chorus of New York. They performed from his album, "Musical Gifts: Joshua Bell and Friends." Recorded live on our stage for WQXR on December 10, 2013.  
---
The Canadian Brass stopped by for an exclusive New York performance from their new CD, "Christmas Time Is Here." The performance featured arrangements of songs by Vince Guaraldi and Luther Henderson as well as traditional favorites from A Charlie Brown Christmas, The Grinch Who Stole Christmas,Rudolph the Red-Nosed Reindeer, Frosty the Snowman and more. Recorded live on our stage for WQXR in December 2013.  
---
The Kings Singers, one of the world's most celebrated vocal ensembles, brought us an a cappella Christmas from England. In this exclusive New York appearance presented by WQXR, the sextet performed timeless carols, Christmas classics and new arrangements in their impeccable vocal blend. Recorded live on our stage on December 16, 2014. 
More in: