Watch: The Dinner Party Download Live with Jessica Williams and Dick Cavett
Thursday, April 14, 2016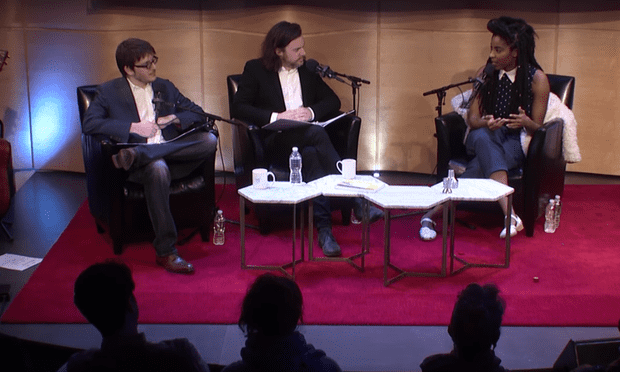 (Screenshot)
The Dinner Party Download crashed our stage on April 14 when hosts Brendan and Rico sat down with guests Jessica Williams ("The Daily Show" and WNYC Studios' 2 Dope Queens), legendary talk-show host Dick Cavett and musical guest Emmy the Great.
On the menu: revealing conversations, big laughs and questionable "etiquette" advice.
→ Check out our playlist excerpts and watch the full show below.
 Note: These videos contain adult language. Younger and sensitive listeners, please be advised.
---
About the Hosts
Brendan Francis Newnam
 has been winning dinner parties since first taking a seat at the kid's table at his family's holiday 
gatherings. Granted, by then he was in his 20s and had graduated from Rutgers while the rest of his tablemates were toddlers, but a victory is a victory, even if you make a five-year-old cry. After living la dolce vita in Europe and fighting for prosecutorial reform in Bulgaria, Brendan was seduced by public radio's siren call. @BFNewnam
Rico Gagliano 
has loved dinner parties since childhood, when he got to eat in his parents' bedroom and watch TV all night while the grownups got wine-tipsy. Rico has contributed to 
All Things Considered
, 
Weekend America
, 
Marketplace
 and more. Rico co-created, performed and wrote for The Ministry of Unknown Science, a comedy troupe for which he's dropped his pants and stood way too close to an exploding sex doll. @RicoGagliano
More in: