Vote for Manhattan's Best Band
Wednesday, February 04, 2015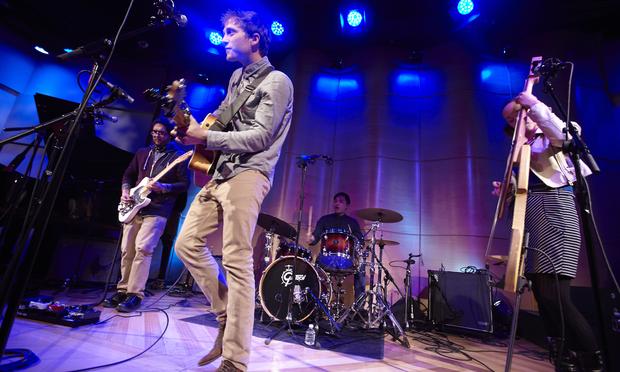 (Matthew Septimus)
UPDATE: Representing Manhattan at the Ultimate Battle of the Boroughs March 27: Gerardo Contino y Los Habaneros!

Which of these undiscovered musical acts should be crowned Manhattan's best?
The Greene Space's 2015 Battle of the Boroughs kicked off Friday, February 6 with a showcase of the borough's most exciting hidden musical talents. From jazz to EDM, world music to alternative rock, 8 acts representing the energy of Manhattan's music scene competed. The audience's votes are in...and here are the three finalists!
Watch their performances, then vote for your favorite by Monday, February 9 at 11:59pm ET. The Manhattan winner will be announced at the Bronx Battle of the Boroughs Friday February 13  and go on to compete against the other borough winners in the Ultimate Battle on March 27.  
Manhattan Finalists:
Text your vote with the codes below, or use the online form at the bottom of this page. 
Shayfer James describes his music as "noir pop," but guest judge John Schaefer just calls James' band "fully formed." After Shayfer James' thumping, theatrical performance on the piano, the New Sounds host was digging it, weighing in with "1958 called and said they wanted their band back, and I said 'No way.'" Judge Alicia Olatuja was also taken with these stalwarts of the downtown scene, saying, "I loved that the energy and intensity never dropped, even between your songs."
To vote for Shayfer James text MN8 to 69866
Wyland charmed the audience with their catchy indie rock songs in C Major and their charming frontman, Ryan Sloan. Judges John Schaefer and Helga Davis were instant fans, and Alicia Olatuja appreciated Ryan's approach to audience participation, remarking "I felt very safe in your hands."
To vote for Wyland text MN6 to 69866
Gerardo Contino y Los Habaneros
Judges and audience alike were blown away by this charismatic bandleader and his new Cuban music. "People who can't even dance were trying," said Alicia Olatuja. Beyond the band's energy and charisma, the band played so well together, with musicianship that led Olatuja to remark that they were "the biggest band and the one with the best balance."
To vote for Gerardo Contino y Los Habaneros text MN7 to 69866
More in: