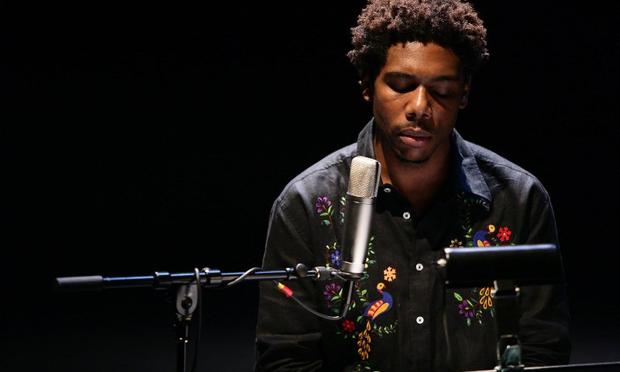 The performance - A City Reimagined - brilliantly directed and executed, is the greatest gift we could possibly give to the New Yorkers who found the strength to tell us their stories in the immediate aftermath of 9/11.  It is also a gift to the city as a whole, reminding us of the poetry that lives in the hearts and minds of all New Yorkers. —Mary Marshall Clark, director, Columbia Center for Oral History
Award-winning poet and performer Carl Hancock Rux is joined by actors Joan Allen, Ruben Santiago-Hudson, Rocco Sisto, Peter Strauss, Rachel Ticotin, Ty Jones, Tamela Aldridge and Ishani Das  for A City Reimagined,  to share  stories and remembrances, with live music from cellist /trombonist  Dana Leong and an art installation designed by Cey Adams.
Within days of 9/11, interviewers from the Columbia Center for Oral History and the Institute for Social and Economic Research and Policy began collecting the accounts and observations of hundreds of people from diverse New York neighborhoods and backgrounds.  Over the last 10 years, follow-up interviews revealed how individuals and the city as a whole have had to reimagine their own narratives. The resulting collection comprises the book After the Fall: New Yorkers Remember September 2001 and the Years that Followed.
To mark the 10th anniversary of 9/11, The Greene Space commissioned Rux to create and perform a spoken word piece that  is a mosaic of remembrance.
A CITY REIMAGINED POST-PERFORMANCE DIALOGUE
How Do We Tell the Story of September 11, 2001 Ten Years Later?
Cey Adams, Visual Artist; Dana Leong, Musician; Mary Marshall Clark, Oral Historian; Marianne McCune, Reporter; and Carl Hancock Rux, Poet
Hosted by WQXR Host Terrance McKnight
An Installation in The NEXT New York Conversation Series
Leadership support for The NEXT New York Conversation is provided by MetLife Foundation