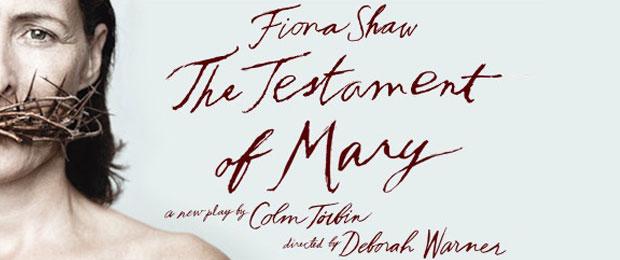 CANCELLED | Due to extenuating circumstances, this event has been canceled. We apologize for any inconvenience. If you've already purchased tickets, you'll be receiving an email on how to refund your ticket or exchange it for another performance in The Greene Space.
The Greene Space invites audiences to an up-close-and-personal conversation around the historic collaboration between actress Fiona Shaw and director Deborah Warner, which results in the creation of a provocative new work for Broadway: "The Testament of Mary."
This Broadway premiere of the novella by acclaimed author Colm Tóibín is an imagining of Mary, the mother of Jesus, as a solitary older woman still seeking to understand the events that become the narrative of the New Testament and the foundation of Christianity. The New York Times calls the play "beautiful and daring." The New York Review of Books calls it "subversive and ruthless," and lauds it for its "sensational theatricality." And Entertainment Weekly says it is "spellbinding and emotional. A generous leap of imagination." 
Join us as WNYC's Leonard Lopate sits down with Fiona Shaw and Deborah Warner to provide audiences an inside look into this daring new work.
Fiona Shaw and Deborah Warner
This year marks a 25-year working partnership between Fiona Shaw and Deborah Warner. They first worked together on a landmark production of Electra at the Royal Shakespeare Company in 1988 (Olivier and London Critics' Awards, Best Actress). Further productions together: The Good Person of Szechuan (National Theatre, Olivier and London Critics' Awards, Best Actress), Hedda Gabler (Abbey Theatre, Dublin and West End; London Critics' Award, Best Actress, Laurence Olivier Award for Direction and Production), Footfalls (Garrick Theatre, West End), Richard II (NT, Paris, Salzburg; French Critics Best Foreign Production), The Waste Land, (Brussels, Dublin, Paris, Toronto, Montreal, Cork, London, Adelaide, Perth, Dublin, Bergen, Madrid and New York; Two Drama Desk Awards, Best Director Obie Award); Medea (Abbey Theatre, Dublin, West End, BAM Paris and Broadway; Evening Standard award for Best Actress and Best Director; Tony Award nominations for Best Actress and Best Director and two Obie Awards), The Powerbook (NT), Readings (Paris; A Poetry show), Julius Caesar (Barbican, Paris, Madrid and Luxembourg); Happy Days (NT, Epidauraus, where it made history as the first 20th century text to be performed in the ancient theatre, Amsterdam, Paris, Dublin, BAM). Dido and Aeneas (Vienna, Opera Comique - Paris, Amsterdam) Mother Courage and Her Children (NT) and Peace Camp for the London 2012 Cultural Olympics.