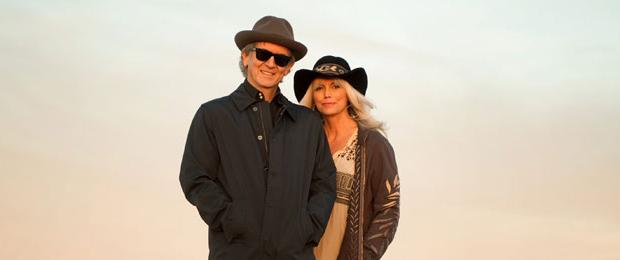 Soundcheck Session: Emmylou Harris and Rodney Crowell
Watch a live webcast of the show's taping, hosted by John Schaefer
Thursday, February 28, 2013
2:00 PM
"Old Yellow Moon" is the brand new album from country legends Emmylou Harris and Rodney Crowell. But this is hardly their first collaboration.
It was nearly 40 years ago, in 1974, when Harris first heard Crowell's work. She was listening to demo tapes and auditioning material, when she heard the first notes of Crowell's "Bluebird Wine." Harris went on to record that song for her major label debut, Pieces of the Sky — it was also the beginning of a friendship, and a decades-long musical relationship.
In the years since, both singers have recorded to great acclaim — but it appears that on "Old Yellow Moon" they're in a reflective mood. As Harris recently told Billboard magazine, the collection of Crowell originals and select covers is "a conversation between two old friends." Harris and Crowell join Soundcheck's John Schaefer for a live video webcast from The Greene Space to talk about decades of friendship and country music — and to play live.