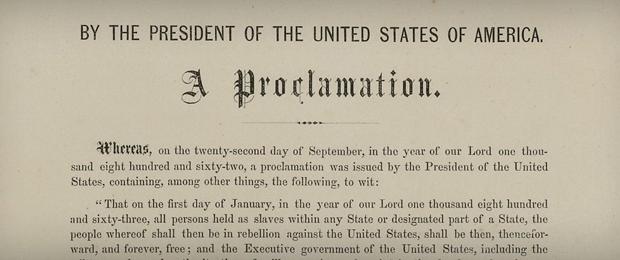 Join us as we commemorate the Emancipation Proclamation's 150th anniversary through conversation and performance in this event co-moderated by award-winning writer Carl Hancock Rux and Robin Morris, Director of National Programs at the National Constitution Center. 
We'll take a look at the historic proclamation within the unsettled, turbulent contexts of the Civil War, Reconstruction, the Jim Crow Era and the Great Migration. Panelists include Pulitzer Prize-winning journalist, Isabel Wilkerson (The Warmth of Other Suns: The Epic Story of America's Great Migration); Dr. Khalil Muhammad (Director of The Schomburg Center for Research in Black Culture); Pulitzer Prize-winning historian Dr. Eric Foner (The Fiery Trial: Abraham Lincoln and American Slavery); and Dr. Jim Downs (Sick from Freedom: African American Illness and Suffering During the Civil War and Reconstruction).
The event will also feature a performance by, and discussion with, internationally-renowned singer Kevin Maynor, who will be accompanied by Tuffus Zimbabwe, pianist from the Saturday Night Live Band. Maynor will perform an excerpt from Ulysses Kay's final opera "Frederick Douglass" and award-winning actors Marjorie Johnson and Jeffery V. Thompson will read from The Warmth of Other Suns, in partnership with Selected Shorts on WNYC 93.9FM. The event will also air as a special in February 2013 on WNYC 93.9FM. Part of our ongoing series, The NEXT New York Conversation.
Leadership support for The NEXT New York Conversation is provided by