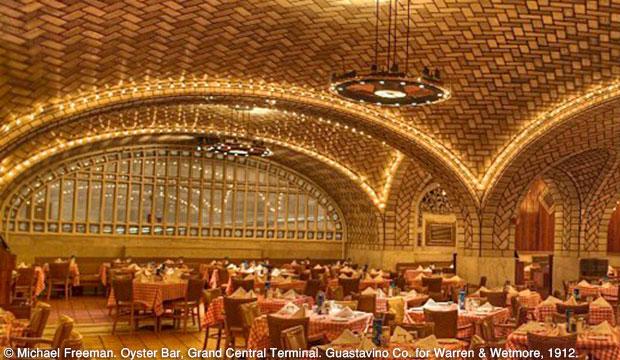 Join WNYC's Leonard Lopate for a conversation about one father-son team's singular contribution to New York City's built environment with architect Santiago Calatrava, MacArthur Fellow and Professor of Civil and Environmental Engineering and Architecture at MIT John Ochsendorf, and architect Jill Lerner, a Principal at Kohn Pedersen Fox (KPF).
Watch live! A video webcast of the sold-out conversation will stream below beginning 6:30pm.
Throughout New York City's five boroughs are more than 200 long-overlooked marvels of engineering and architectural beauty—the interlocking tile vaults built by Spanish immigrants Rafael Guastavino, Sr. (1842-1908), and his son, Rafael Jr. (1872-1950). The system of structural tile vaults developed by the Guastavinos—lightweight, fireproof, low-maintenance, and capable of supporting significant loads—was used by leading architects of the day, including McKim, Mead & White and Carrere and Hastings. Ellis Island's Registry Room, Carnegie Hall, the Bronx Zoo's Elephant House, and Grand Central Terminal all contain Guastavino vaults.
The Museum of the City of New York's Palaces for the People: Guastavino and the Art of Structural Tile
is the first major exhibition to explore the innovations the Guastavino Fireproof Construction Company (1889-1962) brought to the science and art of building.
Originally organized by John Ochsendorf, the City Museum's presentation is substantially expanded to include some 20 key Guastavino spaces in the five boroughs. The exhibition opens on March 26, 2014.
Supported by: