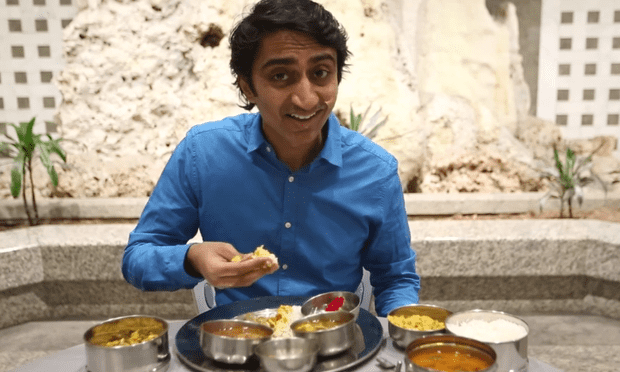 Forget the forks, the knives, the spoons, the sporks… Join Arun Venugopal and his guests for a delicious Indian meal, the way it's meant to be eaten: with your bare hand. We dig into the distinct pleasures of utensil-free dining, and explore why so many people are uncomfortable eating with their hand in public. A discussion that brings together food, culture and race – with plenty of wet-wipes – and dinner, of course! The event will include a full, seated dinner, and the evening's menu will be prepared by Kokum Indian Cuisine. 
Hosted by Arun Venugopal, guests include: Jeff Orlick, "Queens Qustodian" and organizer of the Momo Tour and Viva La Comida; Helen Hollyman, editor-in-chief of VICE's "Munchies"; Himanshu Suri (aka HEEMS), whose new album is Eat Pray Thug; and world authority on Indian food, Madhur Jaffrey.
Watch live at 7:30pm:
Menu:
Eggplant Chennai Roast (onions, tomatoes, tamarind, mustard seeds)
Aloo Mustard Curry (mustard seeds, curry leaves, ginger)
Chicken Kottumali (Cilantro, onion, tomatoes)
Basmati Rice
Menu note: items may contain or be prepared around milk, eggs, nuts, fish, shellfish, soy, and wheat.
Micropolis Live: Race and Culture in New York is a five-part series of events presented as part of The NEXT New York Conversation. 
Other upcoming Micropolis Live: Race and Culture in New York events:
The NEXT New York Conversation brings together changemakers, newsmakers and tastemakers to illuminate relevant topics that are redefining and reshaping our 21st century. Voices from established professionals and invested locals alike emerge through intimate dialogues, town hall meetings, performance chats and debates. The NEXT New York Conversation connects deeply with live audiences in our theater, online and on-air. Led by an ensemble of award-winning hosts and journalists, this series tells stories that matter from around the corner — and around the world!
Leadership support for The NEXT New York Conversation is provided by: