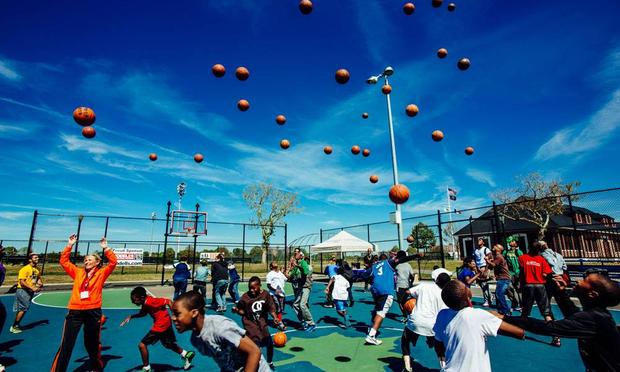 Ardea Arts and The Greene Space present a workshop performance of BOUNCE: The Basketball Opera, a dramatic mix of live music and theatre with a script by award-winning American author, Charles R. Smith, Jr. set to music by the prominent and versatile American composer, Daniel Bernard Roumain.
Watch live at 7pm:
BOUNCE brings to life the powerful and inspiring story about the soaring hopes, dreams and aspirations of Isaac "Ike the Flight" Harris, a young basketball player who overcomes temptations and life's hard lessons. BOUNCE is grounded in contemporary youth issues, including gun violence, and proudly builds on Ardea Arts' decades-long history of producing innovative and relevant opera-musicals for youth involving them intimately at schools, parks, community centers and theaters.
The event will feature a libretto reading of the opera, musical performances by Daniel Bernard Roumain and David Hughey, and a panel discussion moderated by WQXR's Terrance McKnight with the creators of BOUNCE, a representative from NYC's Task Force to Prevent Gun Violence and a representative from the City Parks Foundation. BOUNCE is presented as part of the Composers Now Festival 2015.
BOUNCE Creative Team
Conceived and directed by Grethe Barrett Holby
Music by Daniel Bernard Roumain
Libretto by Charles R. Smith Jr.
Produced by Torrie Allen
Cast includes:
David Macaluso
Ron Loyd
David Hughey
Sean Boyce
Amanda Finch
Audra Casebier
Katherine C. Almiranez
Nelson Gonzales
CHARLES R. SMITH JR. is an award-winning author, photographer and poet with over thirty books to his credit. His awards include a Coretta Scott King Award for Illustration (2010) for his photographs accompanying the Langston Hughes poem, "My eople" and a Coretta Scott King Honor Author Award (2008) for his biography on Muhammad Ali, "Twelve Rounds to Glory." Today, Charles R. Smith Jr. combines his passions of writing and photography with a variety of subjects that spark his interest. His poetry has also been used to paint unique biographical portraits of personal heroes such as the aforementioned Ali, boxer Jack Johnson and guitarist Jimi Hendrix. Of the distinctive niche Charles fills with his books, he notes, "I want to show students, particularly boys, that there are many ways to pursue their interests, no matter what they may be.
DANIEL BERNARD ROUMAIN'S acclaimed work as a composer and a performer has spanned more than two decades, and has been commissioned by venerable artists and institutions worldwide. Proving that he's "about as omnivorous as a contemporary artist gets" (New York Times), Mr. Roumain is perhaps the only composer whose collaborations span the worlds of Philip Glass, Cassandra Wilson, Bill T. Jones, Savion Glover and Lady Gaga. Mr. Roumain earned his doctorate in Music Composition from the University of Michigan under the tutelage of William Albright, William Bolcom, and Michael Daugherty.
Executive Producer TORRIE ALLEN has more than 30 years wide-ranging experience in executive and artistic leadership, fundraising, arts policy and vocal performance, and holds degrees from UCLA and the Boston Conservatory. He served as the executive and artistic director of Anchorage Opera from 2006 to 2012, and prior to joining AO, Mr. Allen served as the director of the National Patrons Council at Americans for the Arts. Performance credits include Opéra National de Paris; Teatro Real Madrid; Bregenz Festpiel, Austria; Rudolfinum, Prague, Czech Republic; St. Petersburg State Symphony, Russia; Metropolitan Opera (Guild), Aspen Music Festival, and Rock Band performances in San Francisco and Los Angeles.
Ardea Arts Artistic Director GRETHE BARRETT HOLBY is credited with "propelling opera into the 21st century," (NPR) Holby has directed, choreographed, performed, and collaborated on world premieres with Leonard Bernstein, Lou Reed, Kitty Brazelton, Eve Beglarian, and Philip Glass, at venues as divergent as La Scala, Kennedy Center, Lincoln Center Festival, and The Kitchen. Founder of American Opera Projects, & Ardea Arts/Family Opera Initiative, she has directed productions for opera companies across the USA.
The Composers Now Festival celebrates living composers, the diversity of their voices and the significance of their musical contributions to our society. During the month of February, the Festival brings together dozens of performances presented by venues, ensembles, orchestras, opera companies, dance companies and many other innovative events throughout New York City. Composers will be in attendance at all events, interacting with audiences. Composers Now is a project partner of The Fund for the City of New York. We gratefully acknowledge the support of the ASCAP Foundation, the BMI Foundation, the Cheswatyr Foundation, the Ann and Gordon Getty Foundation, the Pocantico Center for the Arts and the Rockefeller Brothers Fund.