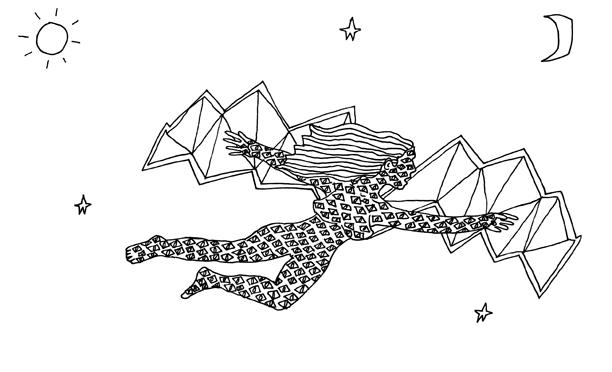 Studio 360 challenges listeners to make Creative Resolutions each year, and at the beginning of 2014, Mike Doughty called into the show and told host Kurt Andersen that he wanted to make a musical based on the biblical book. "It is an absolutely terrifying, psychedelic tale of destruction, and the language is so beautiful," Doughty told Kurt Andersen. "I thought, with the right music and the right visuals, it would be a great show." Studio 360 held Mike to his promise, and the result is Revelation. 
Listen to Mike on Studio 360 describing his plans for the show here and here, and then listen to two tracks from Revelation here.
WRITTEN, COMPOSED, DIRECTED, AND PERFORMED by Mike Doughty.
VISUAL ART by Zebadiah Keneally.
Mike Doughty is a singer/songwriter whose most recent solo album, his eighth, is 2014's Stellar Motel. He's the author of a memoir, The Book of Drugs, and book of poems, Slanky, and produces EDM and hip-hop tracks under the pseudonyms UUL and Dubious Luxury. He founded the band Soul Coughing in the 1990s.
Cast
Amber Gray: Theatre: An Octoroon (Soho Rep and upcoming at Theatre For A New Audience), Natasha Pierre and The Great Comet of 1812 (Kazino and Ars Nova), The TEAM's Mission Drift (London's National Theatre, Hong Kong Arts Festival, Perth International Arts Festival, New York COIL, Salzburger Festspiele, Edinburgh's Traverse Theatre, Universide de Coimbra, Lisbon's Culturgest, and ArtsEmerson), The World is Round (Ripe Time), We Play for the Gods (Women's Project), All Hands (Hoi Polloi), Eager to Lose (Ars Nova), Banished Children of Eve (Irish Rep), The Octoroon (P.S.122), and ongoing shows with Reverend Billy and The Church of Stop Shopping. Training: MFA NYU Graduate Acting
Andrew Livingston is a composer, multi-instrumentalist and sound artist residing in Brooklyn, New York. His compositions have been performed often in New York City and in the deep south in a wide variety of venues from concert halls to theaters to DIY spaces and installations. As a performer he has worked as a cellist, double bassist, guitarist, and pianist across the globe with avant-garde classical projects as well as rock bands and with many singer-songwriters, He is a full-time founding member of the experimental chamber music group ThingNY. Andrew is also the musical and sound half of the creative duo The Unitards, a collaboration between Andrew Livingston and Daniel Fay. Andrew received his Masters degree in Music Theory and Composition from CUNY.
John Guari [pronounced: "Gary"] is a keyboardist, trumpet player, singer, composer and producer living in Brooklyn, NY. His work in Large Ensemble Jazz has earned him two Grammy Nominations: First in 2010 with his composition "November" appearing on the University of North Texas One O'clock Lab Band album Lab 2009 and in 2014 as associate producer for Darcy James Argue's Secret Society's album Brooklyn Babylon. As a journeyman freelancer, John has performed, arranged or worked with Ben Folds, The Apples in stereo, Brooklyn Philharmonic, Brooklyn Children's Chorus, Ethan Iverson of the Bad Plus, James Jamerson Jr., Christian Wolff, Rana Farhan, critically acclaimed web series High Maintenance, his original band the Watch and Wait, and more.
Pete Wilhoit is an American percussionist best known as drummer and member of U.K. rock band Fiction Plane. He has recorded drums on over 50 albums and performed with the likes of Michael McDonald, Sting, Sharon Corr (of The Corrs), Ari Hest, Eilot Sumner, Declan O'Rourke, Mike Doughty, G.E. Smith (of S.N.L.) and Andy Summers.
Music maker Xenia Rubinos uses her powerful voice to create beats and melodies from scratch. Her critically acclaimed debut album, Magic Trix, is an ecstatic collection of songs featuring layered beats, crunchy keyboards, and driving syncopated rhythms. Xenia's music has been featured in the New Yorker, NPR, Pitchfork, and MTV. Audiences and critics alike have lauded her rafter-shaking live show, describing the songstress as "redefining exuberance". She has toured Europe and the US nationally and is now hard at work on her second full length album to be released in 2015.
Melissa McMillan is a jazz/R&B vocalist and songwriter based in Brooklyn, NY.