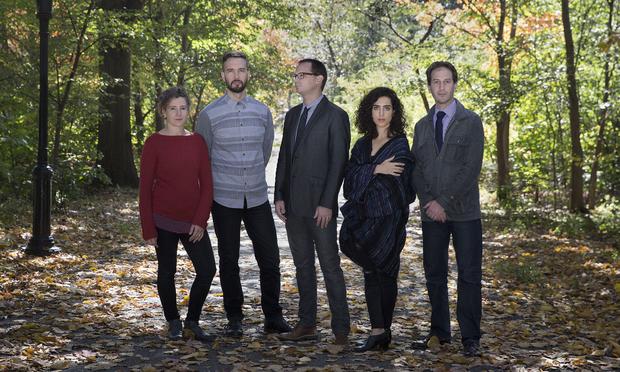 Join Q2 Music and indie-classical standard-bearers NOW Ensemble for a live performance in celebration of the group's newest album, "Dreamfall" — out May 26 via New Amsterdam Records.
The ensemble's fourth album, "Dreamfall" features seven composers – Scott Smallwood, Mark Dancigers, John Supko, Nathan Williamson, Sarah Kirkland Snider, Andrea Mazzariello and Judd Greestein – and is by far the biggest and most ambitious record for the group to date. Larger than life, ranging from ferocious to meditative to grooving and beautiful, the album is like the life of the ensemble itself over the past few years: pulsing with an urgent message, a desire to open up, be heard, share sound and unmediated musical worlds.
Hosted by Q2 Music's Helga Davis, the evening includes on-stage interviews with featured composers. NOW Ensemble consists of New York new-music superstars clarinetist Alicia Lee, double bassist Logan Coale, guitartist Mark Dancigers, pianist Michael Mizrahi and flutist Alexandra Sopp.
You can also watch live at 7pm: