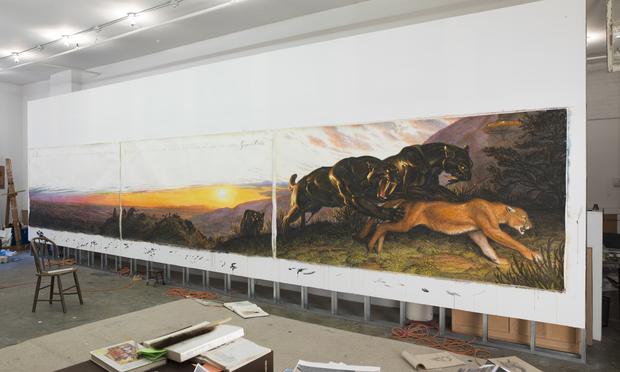 Join artist Walton Ford and writer Emma Cline for a conversation with WNYC's Mythili Rao in Gagosian Quarterly's inaugural talk at The Greene Space.
Ford's newest exhibition is entitled Calafia, now at Gagosian Gallery in Beverly Hills through December 16. The exhibit is comprised of a new series of large-scale, watercolor paintings in which Ford depicts California through his singular, animal-focused lens of myths, literature and folklores.
Cline's acclaimed debut novel "The Girls" focuses on similar themes of California's history and aura. She joins Ford to discuss the duality of glamour and catastrophe, as well as contemporary concerns surrounding California — from wildfires to dreams deferred.
→ Video Webcast
You can also watch a live video stream
From "The Edge of the World," written by Cline for Ford's exhibition catalogue:
"California has always engendered mythmaking, fables that circle around the fantasy and the reality, the promise and the threat. That dualism is built into the place, going back to the creation myths of the American Indians, Coyote as both a life-giving presence and a trickster, a shape-shifter who sometimes brought fortune and bounty and sometimes brought death."