Jacques Pépin is an internationally recognized French chef, television personality, and author. His celebrated La Technique is used to this day as a textbook for teaching the fundamentals of French cuisine. The success of La Technique prompted him to launch a televised version of the book, resulting in an acclaimed 1997 PBS series, The Complete Pépin.
Pépin also co-starred in the Emmy Award-winning 1999 PBS series, Julia and Jacques: Cooking at Home with Julia Child. Pépin serves as Dean of Special Programs at the French Culinary Institute, part of the new International Culinary Center, in New York City. He is also an active contributor to the Gastronomy department at Boston University. Pépin also writes a quarterly column for Food & Wine and offers an amateur class each semester based on varied culinary topics. Pépin currently resides with his wife, Gloria, in Madison, Connecticut.
Jacques Pépin appears in the following: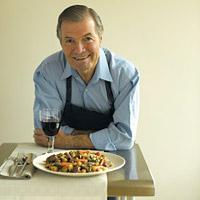 Tuesday, June 15, 2010
7:00 PM
Chefs Jacques Pépin and Michel Nischan go head-to-head in cook-off with only a hot plate and elementary cooking equipment, judged by Lidia Bastianich and complemented with a blind wine tasting with sommelier Aldo Sohm and live performance by the Eroica Trio.