Battle of the Boroughs: Finalist from the Brooklyn Throwdown
Monday, March 15, 2010
WNYC's The Greene Space is the site of a showdown series designed to bring out the best undiscovered performers in New York's five boroughs. Bands and ensembles of all genres, instrumentalists, singers, DJs, spoken word artists and performance applied to perform and compete to represent their borough in the Ultimate Battle of the Boroughs. One act will win the big prize, a concert in The Greene Space.

More
Congratulations to My Cousin, The Emperor - your choice to represent Brooklyn in the Battle of the Boroughs' Ultimate Battle at The Greene Space on June 18.
Purchase tickets for the Ultimate Battle of the Boroughs now »
Check out the performance by My Cousin, The Emperor below
Congratulations to all of the Brooklyn contestants!  What an amazing line-up of excellence and funk all rolled into one night!  Check out the entire Brooklyn Throwdown below.
My Cousin, The Emperor (Jason Reischel, Terry Quire, Chris Gogan, and Alex Wyat)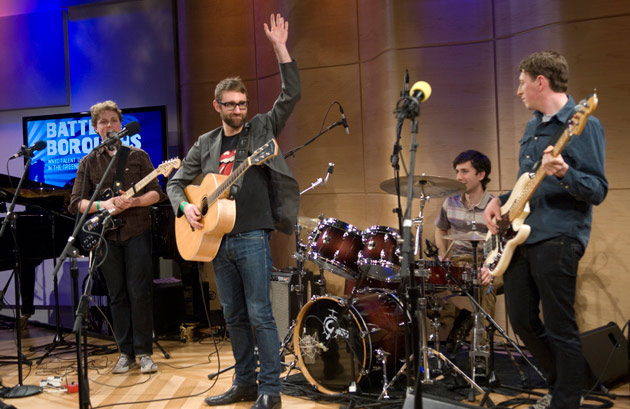 My Cousin, The Emperor is the latest endeavor of Brooklyn-based via North Carolina singer-songwriter Jason Reischel. Following two national tours and two albums as a solo artist, Reischel re-imagined his southern-inspired sound and joined with some of NYC's finest musicians.  In only a year and a half of existence MCTE has already been making a name for itself in NYC and beyond. Most recently, their song "A Long Way From Home" won the Independent Music Award for Alt-Country Song of the Year.
My Cousin, The Emperor be moving on to the Ultimate Battle of the Boroughs in June, but their contenders still await their battles:
Manhattan Throwdown: April 2
The Bronx Throwdown: April 30
Staten Island Throwdown: May 7
Queens Throwdown: June 4
Ultimate Battle: June 18
In partnership with

More in: