EMANCIPATION 150
Thursday, December 27, 2012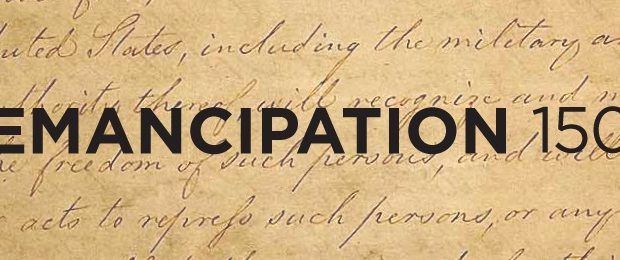 On the Emancipation Proclamation's 150th anniversary, The Greene Space presents a thought-provoking multi-platform series, EMANCIPATION 150, as part of The NEXT New York Conversation. Beginning January 2013, we'll gather a collective of changemakers, newsmakers, tastemakers and New Yorkers to discuss one of the most important documents in American history, examine its legacy and reflect on the state of emancipation for African Americans today.
Take a scroll through history. Click on the photo at left to view our Emancipation 150 timeline. See the major milestones, cultural moments and diverse voices that have emerged over the last 150 years: Malcolm X, Martin Luther King Jr., the Morehouse College Glee Club, Phylicia Rashad, Wynton Marsalis, Esperanza Spalding and more. 
Read a note on the series from The Greene Space's Executive Producer, Dr. Indira Etwaroo.
The Full Emancipation 150 Schedule of Events

From Emancipation to the Great Migration
Tuesday, January 8 at 7pm
WATCH NOW 
Through conversation and performance, take a look at the historic proclamation within the unsettled, turbulent contexts of the Civil War, Reconstruction, the Jim Crow Era and the Great Migration. Co-moderated by award-winning writer Carl Hancock Rux and Robin Morris, Director of National Programs at the National Constitution Center. Panelists include Pulitzer Prize-winning journalist Isabel Wilkerson (The Warmth of Other Suns: The Epic Story of America's Great Migration); Dr. Khalil Muhammad (Director of The Schomburg Center for Research in Black Culture); Pulitzer Prize-winning historian Dr. Eric Foner (The Fiery Trial: Abraham Lincoln and American Slavery) and Dr. Jim Downs (Sick from Freedom: African American Illness and Suffering During the Civil War and Reconstruction). The event will also feature a performance by internationally-renowned singer Kevin Maynor, accompanied by Tuffus Zimbabwe, pianist from the Saturday Night Live Band; and a reading from The Warmth of Other Suns by award-winning actors Marjorie Johnson and Jeffrey V. Thompson.

Malcolm, Martin and Medgar: A Reunion
Sunday, January 20 at 3pm
WATCH NOW 
WNYC's annual Martin Luther King, Jr. Day celebration will examine current events as they might be seen by three slain civil rights icons. Passages from the play "Malcolm, Martin and Medgar" by A. Peter Bailey, Editor of Malcolm X's OOAU newsletter Backlash, set the tone for an invigorating afternoon of discussion, music and personal reminiscence, hosted by WNYC's Brian Lehrer. Presented by New York Publc Radio's Community Engagement and Audience Development. Please note this event will be held at the Brooklyn Museum.
Between the Lines: Deborah Willis and Barbara Krauthamer
Monday, February 4 at 6:30pm 
WATCH NOW
The Schomburg Center for Research in Black Culture commemorates the 150th anniversary of the Emancipation Proclamation through conversation with Deborah Willis and Barbara Krauthamer, authors of Envisioning Emancipation: Black Americans and the End of Slavery. The book is a powerful photographic survey of what freedom looked like for black Americans in the Civil War Era. Sam Pollard, director of the documentary Slavery By Another Name will moderate. Presented in partnership with the Schomburg Center.

The State of the Black Economy
Wednesday, February 6 at 7pm
Sold Out
WATCH NOW  
In 2013, we will inaugurate the first black president for a second term into the highest office in the United States. Yet the 2010 Census Bureau showed that the median black household made 59.8 percent as much as the median white household; 40% of black students fail to graduate high school on time; and 27.4 percent of blacks live in poverty compared to the overall poverty rate of 15%. Dr. Cornel West, a prominent and provocative intellectual joins CNN financial contributor Ryan Mack to discuss "the least of these." They take a deep dive into the history of generational poverty and wealth and the current state of the economy for African Americans. This interactive dialogue folds audiences into the conversation, and will be led by award-winning author and radio host, Farai Chideya.
Black Women in Classical Ballet
Monday, March 4 at 7pm 
WATCH NOW
"Where are all the Black Swans?" That question was raised by The New York Times in a 2007 article that went on to observe: "while other minorities have made inroads in classical ballet, the complicated reality of racial inequality persists, especially for black women." Years later, many would agree those Black Swans are still all too rare.
In this evening of performance and conversation, we sit down with luminaries in the field of classical ballet who will share their personal stories: Virginia Johnson, Artistic Director of Dance Theatre of Harlem; Raven Wilkinson, legendary ballerina formerly of Ballet Russe de Monte Carlo and character actress for the New York Metropolitan Opera; Misty Copeland, American Ballet Theatre Soloist; and Ashley Murphy, Dance Theatre of Harlem Company Ballerina. Moderated by Charisse Jones, journalist and essayist. The evening will feature a performance by company members from the Dance Theatre of Harlem.
The Rhythm of Freedom: A Conversation with Savion Glover
Friday, April 12 at 7pm 
WATCH NOW
The history of African-American dance has been influential in forming many of the dance styles we know today, giving voice to many of the narratives of freedom that have shaped the landscape of America. Modern dance, jazz, tap, swing, Lindy Hop, Charleston, hip-hop and even the waltz have all been influenced by African and African-American culture. From the days of slavery, to minstrel shows, the Harlem renaissance and modern dance pioneers, the African-American dance movement has forever impacted dance as it is created, performed and talked about across the globe. A discussion featuring Tony Award-winning tap dancer and choreographer Savion Glover.

All Ears with Terrance McKnight
Monday, April 29
WATCH NOW 
WQXR presents a special evening honoring the African American experience in classical music. Join the Imani Winds, pianists Roy Eaton and Donal Fox, and bass-baritone Joe Damon Chappel for a concert and conversation about the struggles and triumphs of African Americans in classical music – where we are and where we're headed. Co-hosted by WQXR's Terrance McKnight and Q2 Music's Helga Davis.

August Wilson's American Century Cycle
August 26 - September 28
August Wilson's celebrated 10-play cycle captures 100 years of African American life during each decade of the 20th century. Join us for an historic series in The Greene Space as an extraordinary cast of actors and directors — many who worked directly with Wilson — gather to make the first-ever recording of all ten plays.
Leadership support for The NEXT New York Conversation is provided by

More in: