Staten Island Battle Finalists: Watch and vote
Friday, May 03, 2013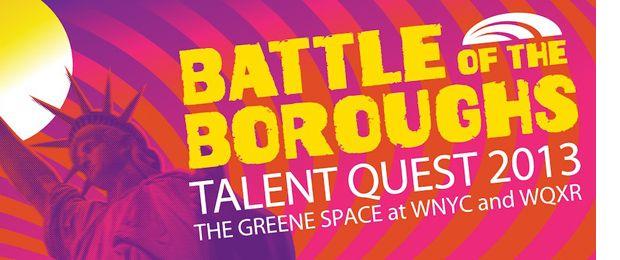 Who should represent Staten Island in our 2013 Battle of the Boroughs? You decide!
Nine up-and-coming musical acts performed on The Greene Space stage on May 3 for a shot at their borough title. Audiences voted in-house and online, and these are the five finalists they chose to go on to the next round. Cast your vote for who you think has what it takes to go head-to-head with the other borough winners in our Ultimate Battle of the Boroughs on June 21. 
UPDATE | Staten Island Winner! Which musical act did voters choose to return to the stage in The Ultimate Battle? Find out here!
Gangnam Award!
Don't forget: even if your favorite musical act didn't make it into the finals or doesn't win the vote, they still have a chance with a wild card spot — our first-ever Gangnam Award! The artist video with the most views on our YouTube channel by each borough's Sunday voting deadline returns to our stage in The Ultimate Battle as our wild card pick. Subscribe now and view your favorite performance! Congrats to all our performers for an awesome night of music.
FINALISTS:
Jessie Kuffner
TEXT SI2 to 69866

Greg Derkatch
TEXT SI3 to 69866 
Cat Cosmai
TEXT SI4 to 69866 
Starda
TEXT SI7 to 69866 
Sons of Origin
TEXT SI9 to 69866 
More in: