Live Auditions: Battle of the Boroughs 2014
Wednesday, September 11, 2013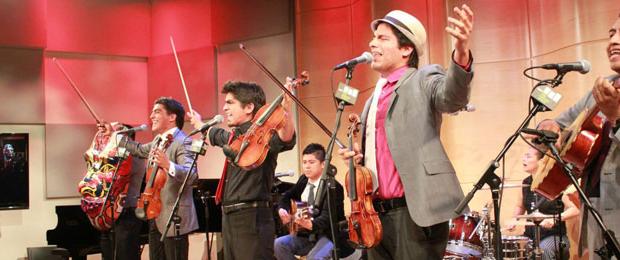 (Matthew Septimus)
GOT TALENT? The Greene Space is looking for New York City's best undiscovered performers to compete in the 2014 Battle of the Boroughs — the fifth season of our citywide talent quest. We're looking for up-and-coming artists of all kinds: bands and ensembles in all genres, instrumentalists, vocalists, and DJs.
UPDATE: The deadline to enter has passed. See the list of this year's contestants here.
Watch our Battle video trailer and read more below!
BE HEARD! WIN PRIZES! Here's your chance to be heard by leading musicians and executives in the field and win a host of exciting prizes worth an estimated $10,500, including: a showcase appearance at the famous Amateur Night at The Apollo, a four-hour multi-track recording session at NYPR's studio with professional audio engineers and studio techs; a produced video featuring Battle performances and a behind-the-scenes look at your act (check out last year's winners); a broadcast quality audio recording of the Ultimate Battle performance; a professional photo shoot of your performance; the opportunity to present a full concert in The Greene Space that will be video webcast live; and a $2,500 gift certificate to Tekserve!
ENTER ONLINE OR AUDITION LIVE! Online entries will be accepted from October 7 through December 31, 2013 RIGHT HERE. To sign up for a live audition slot, email us at thegreenespace@nypublicradio.org with your name, cell phone number, the name of your act, the number of performers, and the genre of music you play. We'll confirm an audition time with you and send you all the information you need. You must audition in the borough where you - or the majority of members - live.
Audition Schedule and Locations:
Brooklyn
Saturday, October 12
4pm - 7pm 
Pete's Candy Store
709 Lorimer St., Williamsburg
Queens
Wednesday, October 23 
7pm - 10pm 
LIC Bar
45-58 Vernon Blvd., Long Island City
Staten Island
Thursday, November 7
7pm - 10pm
The Full Cup
388 Van Duzer St.
The Bronx
Thursday, November 21
7pm - 10pm
An Beal Bocht
445 W 238th St., at Graystone Ave.
Manhattan
Saturday, December 7
4pm - 7pm
Sidewalk
94 Avenue A 
More in: