Celebrate the Season in The Greene Space!
Wednesday, November 20, 2013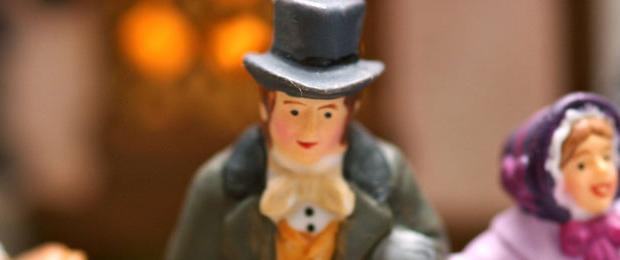 (Kevin Dooley/flickr)
Gather 'round The Greene Space this holiday season! We've got plenty of ways for you to make the season merry with our friends at WNYC and WQXR — from exclusive musical performances to our annual reading of Charles Dickens' A Christmas Carol.
FULL HOLIDAY SCHEDULE:
WQXR Presents a Chanukah Celebration Around the Globe
Thursday, December 5 at 7pm
Tickets: $25 includes a sweet treat and one drink
Watch on-demand video 
All over the world, the joy of Chanukah is reflected in the rich and varied musical traditions of countries where Jews have lived and worshipped for centuries. This year, WQXR celebrates the Festival of Lights with a special event featuring music from Central Europe, Central Asia, the Balkans, the Middle East — and Uganda! — performed by three outstanding ensembles: East of the River, Shashmaqam and The Dave Levitt Klezmer Trio. WQXR host Naomi Lewin is our guide for a fascinating journey through Jewish music around the world.
WQXR Presents Musical Gifts: Joshua Bell and Friends
Tuesday, December 10 at 6pm
Tickets: $40 includes a sweet treat and one drink
Watch on-demand video
Celebrate the season with superstar violinist Joshua Bell, who makes The Greene Space his living room for an exclusive evening of holiday music from his new CD, "Musical Gifts: Joshua Bell and Friends." Featuring special guests Michael Feinstein, Frankie Moreno, the Young People's Chorus of New York and more, performing traditional favorites and new holiday arrangements that celebrate the warmth, beauty and magic of the season. WQXR's Elliott Forrest hosts.
WQXR Presents The Canadian Brass: Christmas Time is Here 
Friday, December 13 at 7pm
Tickets: $25 includes a sweet holiday treat and one drink
Watch on-demand video
In an exclusive New York performance, the legendary Canadian Brass, beloved for their virtuosity, versatility and mad-cap showmanship, perform from their all-new CD Christmas Time is Here, featuring classics from some of the most popular animated specials created for the holidays. The festive program features arrangements of music by Vince Guaraldi and Luther Henderson as well as traditional favorites from A Charlie Brown Christmas, The Grinch Who Stole Christmas, Rudolph the Red-Nosed Reindeer, Frosty the Snowman and more – timeless classics infused with jazz and lush harmonies.  Hosted by WQXR's Jeff Spurgeon.
Charles Dickens' A Christmas Carol
Monday, December 16 at 5pm and 7pm
Tickets: $40 includes a sweet holiday treat and hot cider, $50 VIP attends a cast meet and greet
Watch on-demand video
The beloved holiday tradition returns with the help of Broadway and screen veteran Tony Roberts, who stars in the role of Ebenezer Scrooge. As a special treat, Fred Newman of A Prairie Home Companion returns to provide live sound effects! The story will be brought to life in The Greene Space with a stage reading performed by Mr. Roberts and WQXR and WNYC personalities and reporters. Directed by WQXR host Elliott Forrest and adapted by award-winning playwright Arthur Yorinks. See full cast list here.
Meet @ WNYC Singles Holiday Mixer
Thursday, December 19 at 6:30pm
Tickets: $40
BUY NOW!
Heat up this winter season by attending WNYC's holiday mixer! Mix and mingle with single public radio fans of all ages. 
More in: