My First August Wilson Play...
Sunday, August 11, 2013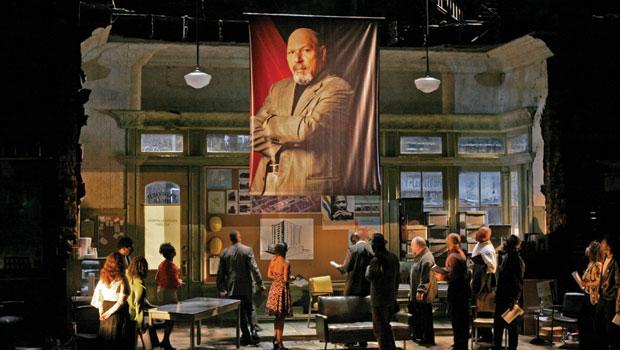 (courtesy of Seattle Repertory Theatre)
Do you remember the first time you saw or read an August Wilson play? 
In 2013, nearly 100 theater artists convened at The Greene Space at WNYC to record all 10 plays in August Wilson's magnum opus. Now you can hear the full audio recordings of the dramatic readings.

More
The cast members and directors in August Wilson's American Century Cycle sure do. We asked them to share their Wilson moment — stories of their first experience with the playwright's words, characters and stories and what it meant to them. After you're done reading, share your own story in the comments!
Ruben Santiago-Hudson
Artistic Director of the August Wilson series; Troy Maxson in Fences, Canewell in Seven Guitars 

Thirty years ago I walked into The Cort Theater and I saw half of Ma Rainey's Black Bottom, because I couldn't see the whole thing. In those days, actors found a way to see [at least] half. And from that moment on, I couldn't rest until I became a part of it. Little did I know that I would play a significant part in it – I just wanted to be a part of it.
Stephen McKinley Henderson
Associate Artistic Director of the August Wilson series; Red Carter in Seven Guitars, Turnbo in Jitney and Elmore in King Hedley II

The first Wilson play I saw was Joe Turner's Come and Gone at the Ethel Barrymore Theater. Esther Rolle had tickets and had planned to go with her sister but when her sister had to cancel Esther asked if I wanted to go. Delroy Lindo and L. Scott Caldwell were in it and I was a fan of both their work having played with them in separate productions of A Raisin in the Sun. Esther and I were in a production of Hansberry's classic at the time.

That production of Joe Turner was a watershed event for me. The exalted language, exquisitely authentic character voices, and mythic, near biblical plotlines with parable laced arias... and then when the spirit fell upon the stage in the Juba dance; oh my God! I was convinced of the majesty of dramatic art all over again. All my ancestors where happy for me that I lived in this time and was an inheritor of all time. Every time I see the play I feel that way in some portion. When I got to do the play in Buffalo, NY about five years later and my grandmother was there with my young son I was filled with a joy of legacy.

 

Keith Randolph Smith
Hambone in Two Trains Running and Caesar in Gem of the Ocean

My first exposure to August's work was with the play The Piano Lesson on Broadway at the Walter Kerr Theatre. I was hired as an understudy to Roc (Charles S.) Dutton and Rocky Carroll. I found in these characters a truth that I had witnessed growing up. The dignity and poetry of my family and other families in the community was on stage and being celebrated. After watching the play, I felt taller and prouder. I had not recognized the poetry in the lives and language of the people I knew, but it was there all the time and I had been trained to ignore it and value other cultures over my own. It was my Prometheus moment. I had been brought fire, and now I could see, cook and be warm. 

 

Brenda Pressley
Louise in Seven Guitars

The original production of The Piano Lesson was my first Wilson experience. I will always remember the beautiful performance of S. Epatha Merkerson as Berniece. Her command of that stage and the text were truly inspiring to me as an actress.

 

John Douglas Thompson
Herald Loomis in Joe Turner's Come and Gone

My first August Wilson play experience came as a result of being stood up on a date. Back in the early 80's I was a young corporate exec, selling computers to banks. I asked this young woman out on a date, thinking she would be impressed if I took her to a play — Joe Turner's Come and Gone at the Yale Rep. Well my date never showed up, so I saw the play on my own with an empty seat next to me. From the fist moment I was transfixed. That journey of loss and reclaiming had captured my soul and made me understand the power of theater and the dignity to be found in the everyday lives of my people. I had only ever seen two plays prior, and neither had African-Americans in the cast.  Joe Turner was a revelation — to see the vibrant lives of African-Americans in the early 1900's gave me a historical, cultural and spiritual context for my own life. I was so moved that I remember praying to God asking, "Teach me how to do that." That night was the beginning of my journey to becoming an actor. 

I left the theater that night forever transformed. Joe Turner's Come and Gone became my standard for the theatrical experience as an audience, and the passion and commitment to strive for as an actor. My secret wish was to one day play Herald Loomis. I found the character to be as mythic as Achilles and iconic as King Lear. My wish came true when I was cast to play Herald in the Mark Taper Forum production of the play in 2013, directed by Phylicia Rashad. The impact that production had on me was profound and continues to reveal itself on my craft and most importantly my humanity. The ground I stand on is the ground August Wilson made for me. August gave me a place to land and to take flight. 

 

Anthony Chisholm
Fielding in Jitney, Solly Two Kings in Gem of the Ocean and Elder Joseph Barlow in Radio Golf

The year was 1989. I was doing a play in Philadelphia at the Wilma Theatre and on my day off I was doing my laundry at the local laundromat. That was when I happened upon an article about Two Trains Running — August Wilson's fifth play out of the box to go to Broadway. Little did I know I'd have a chance to audition for it. That audition came in January 1990. First I had to get past the casting director. I auditioned for her first across her desk and she could have said, "Thank you very much" and that would have been the end of it. Instead she said, "Okay, I'm putting you down for 3:10 on Wednesday." And that's when the gate opened. I got the part! And for the next 15 years, I did over 50 productions of seven of 10 Wilson plays, including three on Broadway. 

 

Arthur French
Stool Pigeon in King Hedley II

I went to see my friend Leonard Jackson in Ma Rainey's Black Bottom. After the play, I asked him to speak to (director) Lloyd Richards about the possibility of my understudying for the play. I knew I wanted to be part of this new voice. 

 

Charles Weldon
Cutler in Ma Rainey's Black Bottom

I'll share a true story that sticks out for me about my relationship with August Wilson — the first time he saw me acting in one of his plays, though by then I had already been in two. I was playing Memphis in Two Trains Running. It was also the first time for the show to run in Pittsburgh (where Wilson grew up). I was very nervous, and to make a long story short, I over acted my butt off. When he came backstage, he smiled and said, and I quote, "I see why your wife left you." If you know the play, you understand what he meant.

August Wilson greets actor Charles Weldon after a performance in Two Trains Running. Photo courtesy of Charles Weldon.
Tell us: Which was your first August Wilson play? Did you read it or see it on stage? Was it one of The Greene Space's readings in this recording series? Share your story of what it meant to you in the comments below.
More in: